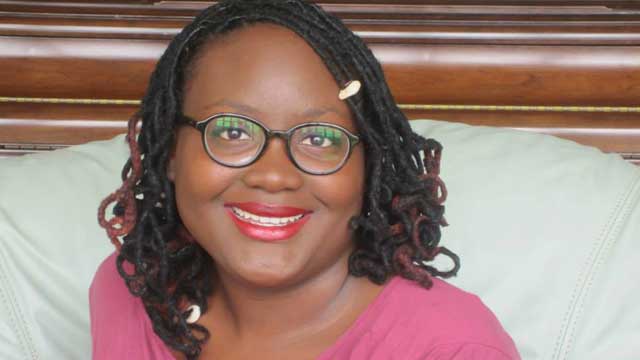 Rhodes University alumna, Ms Efemia Chela's short story "Chicken" in Feast, Famine and Potluck published in South Africa 2013 has been shortlisted for the 2014 Caine Prize for African Writing yesterday (22 April 2014) in Nigeria.
Nobel Prize winner and Patron of the Caine Prize, Professor Wole Soyinka made the announcement as part of the opening ceremonies for the UNESCO World Book Capital 2014 celebration in Port Harcourt, Nigeria.
The Chair of judges, award-winning author Jackie Kay MBE described the shortlist as, "Compelling, lyrical, thought-provoking and engaging. From a daughter's unusual way of grieving for her father, to a memorable swim with a grandmother, a young boy's fascination with a gorilla's conversation, a dramatic faux family meeting, to a woman who is forced to sell her eggs, the subjects are as diverse as they are entertaining."
"I'm ecstatic that it's been shortlisted for the Caine Prize. It's a huge honour and completely unexpected. I wrote Chicken in 2013, during a difficult time of my life financially and emotionally and I never thought the story would go this far or people would enjoy it as much as they do," said Ms Chela.
"As an upcoming writer being Caine shortlisted puts positive pressure on me to write more. And in a bizarre way I think people will take me more seriously now."
"I'm 22 and before I was published in the Feast, Famine and Potluck anthology it was very difficult to get my writing published, or an agent or submit a manuscript. I have a feeling that being associated with the prize will ease my path somewhat," she added.
When asked whether she will win, she said, "in so many ways I feel like I've already won just being shortlisted. But I suppose we'll see in July who the big winner is."
The short story is about the modern middle-class African experience. "It's a somewhat post-modern tale that is relayed by Kaba, the protagonist and it explores her attempts to find her place in the world after university," she said.
"It's about standing in the face of feminism and asking ourselves, "Where are we now? It's about youth and expectations and desire. It's about shifting norms, traditions and politics. I don't want to give anything away so that's all I'll say about the plot. It won 3rd place in the 2013 Short Story Day Africa competition."
She hopes to one day to release a book or a graphic novel, "but that's probably years away".
She feels that short stories are very underrated and she enjoys writing them. She is currently working on a couple of short stories.
When asked about the future, she expresses her desire to go to Japan and teach English for a year, enroll for a Masters Degree in Translation in the United Kingdom, be a translator and film subtitler and generally be more involved in the publishing industry. "And obviously keep writing fiction," she added.
Ms Chela graduated with a BA in French , Politics and Classical Civilisation from Rhodes University. She completed part of her Politics Honours at Institut D'Etudes Politiques in Aix-En-Provence, France.
The 2014 shortlist comprises:
Diane Awerbuck (South Africa) "Phosphorescence" in Cabin Fever (Umuzi, Cape Town. 2011)
Read PhosphorescenceEfemia Chela (Ghana/Zambia) "Chicken" in Feast, Famine and Potluck (Short Story Day Africa, South Africa. 2013)
Read ChickenTendai Huchu (Zimbabwe) "The Intervention" in Open Road Review, issue 7, New Delhi. 2013
Read The InterventionBilly Kahora (Kenya) "The Gorilla's Apprentice" in Granta (London. 2010)
Read The Gorilla's ApprenticeOkwiri Oduor (Kenya) "My Father's Head" in Feast, Famine and Potluck (Short Story Day Africa, South Africa. 2013)
Read My Father's Head
By Zamuxolo Matiwana
Source: Communications and Marketing
Please help us to raise funds so that we can give all our students a chance to access online teaching and learning. Covid-19 has disrupted our students' education. Don't let the digital divide put their future at risk. Visit www.ru.ac.za/rucoronavirusgateway to donate