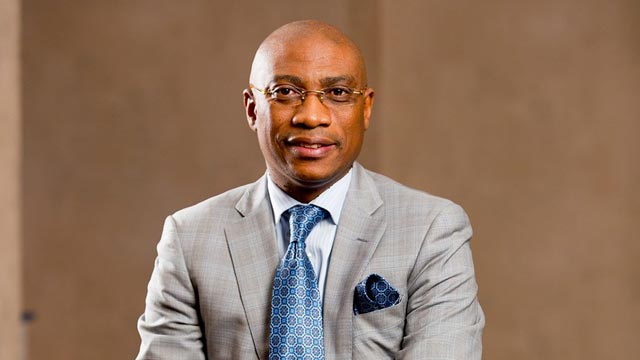 The Rhodes University Council has elected its new chairperson, Mr Vuyo Kahla, a Rhodes alumnus, who has served the University as a member of both Council and the Board of Governors.
Mr Kahla, who becomes Rhodes University's first black Council chairperson, takes over from Judge Jos Jones, who stepped down on 13 March 2014. Mr Kahla brings with him extensive leadership and global executive experience straddling the corporate and education sector. His education sector contribution include being the Chairman of the Council of St John's College in Johannesburg; member of the University of South Africa (UNISA) Council and its Exco, and Chairman of the UNISA Audit and Enterprise Risk Management Committee until his retirement from that Council in June 2013.
Judge Jones served as the Chair of Council for 18 years. He said it had been an honour to Chair the University Council and that he was inordinately proud to have been able to contribute to the University and its Council. The Judge was thanked by a number of Council members and University officials, among whom was outgoing Rhodes University Vice-Chancellor, Dr Saleem Badat. Dr Badat said it had been a pleasure to work with Judge Jones, and that it had been a fantastic eight years of serving with him. Rhodes University Registrar, Dr Stephen Fourie thanked Judge Jones on behalf of the Rhodes University Council for an extraordinary time he served as Chair of Council. Dr Fourie said the Judge had started as Chair of Council at a very difficult time and that he had made an incredible contribution to the University.
Speaking on behalf of Council, Dr Fourie said that he looked forward to Mr Kahla's contribution as Chair, particularly as he leads the process of selecting a new Vice-Chancellor. Dr Fourie said Mr Kahla's duties as the new Council chair commenced immediately after the election at the Council meeting on 13 March. Mr Kahla said: "Judge Jones has served Rhodes University, as Chairperson of Council, with distinction and unwavering commitment to its sustainability as a world-class African university that's responsive to its mandate and the needs of its community. I'm therefore most humbled by the trust and honour bestowed on me to succeed him. "I'm counting on the collective wisdom of my Council colleagues, academic and non-academic staff and student leaders to ensure that we sustain the momentum of transformation and progress that's characterised the era of Judge Jones and outgoing Vice-Chancellor, Dr Badat's leadership". Mr Kahla is a member of the Group Executive Committee of Sasol Limited and holds the positions of Group Executive: Advisory & Assurance and Company Secretary. In this capacity, Mr Kahla has global executive responsibility for Legal Services, Compliance, Intellectual Property Services, Risk Management, Sasol Assurance Services, Company Secretarial Services, and the Group Ethics Office. Mr Kahla is also a director of a number of Sasol group companies, including Sasol Mining (Pty) Limited, Sasol Petroleum International (Pty) Limited, Sasol Gas Limited, Sasol Chemical Industries Limited and Sasol Group Services (Pty) Limited. Prior to joining Sasol, he was Group Executive: Office of the Group Chief Executive of Transnet SOC Limited, having initially joined Transnet's Group Executive Committee as Group Executive: Legal and Risk in July 2004.
Mr Kahla's professional life includes having held the following positions: Assistant Legal Advisor for the late President Nelson Mandela; Director: Transformation and Corporate Strategy at the Department of Justice and Constitutional Development; Special Advisor to then National Director of Public Prosecution, Mr Bulelani Ngcuka; Chief Legal Advisor to then Minister of Finance, Mr Trevor Manuel, MP and to the National Treasury; and Director: Corporate Governance and Legal Services for the Africa division of the Standard Bank Group. Mr Kahla is also a member of the Audit Committee of the South African Revenue Service. He holds a BA LLB from Rhodes University, and during his student days held a number of leadership positions, including being the Vice-President of the Students Representative Council; Chairperson of the South African Student Congress; Chairperson of the South African Tertiary Institutions Sports Council; and Secretary of the Law Students Council and editor of its journal, In Camera. He is an Abe Bailey Fellow and an alumnus of the Prince of Wales University of Cambridge Programme on Sustainability Leadership. Mr Kahla has been honoured by the World Economic Forum with the recognition of a Young Global Leader. Following his retirement in January 2014 as the Chairman of the Council of St John's College, Bishop Steve Moreo of the Anglican Diocese of Johannesburg awarded Mr Kahla the Bishop's Medal for having "served both our society and the church well for many years". He is married to Ms Vuyelwa Masangwana and has a son, Lubabalo, and twin daughters Vuyisa and Velisa.
Source: Rhodes
Please help us to raise funds so that we can give all our students a chance to access online teaching and learning. Covid-19 has disrupted our students' education. Don't let the digital divide put their future at risk. Visit www.ru.ac.za/rucoronavirusgateway to donate