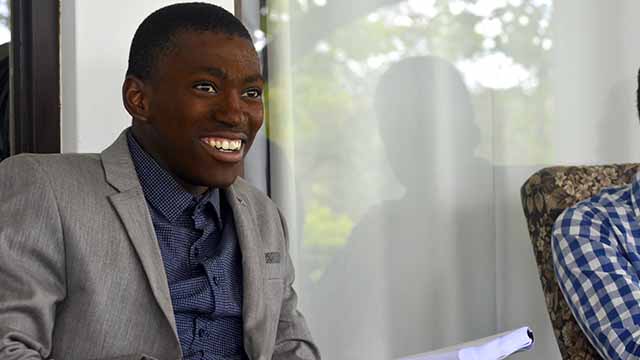 Rhodes University in partnership with Gadra Education kicked off the 4th year of the 20-day High Impact Supplementary School earlier this month to ensure that matric learners from under-performing local schools who failed or performed poorly in Matric have another shot at furthering their education.
Over 45 learners who have either failed matric or would like to improve their matric results were welcomed to the programme which is currently taking place at the Gavin Relly Postgraduate Village by HISS principal, Timothy Hacksley this past week. "This programme will ensure that despite the impoverished state of township schools, learners can obtain Bachelor passes and access tertiary education," Hacksley said.
The Supplementary School is part of Rhodes University Vice Chancellor Dr Sizwe Mabizela's Reviving Grahamstown Schools Programme: Pathways to the Future, which is largely facilitated by the Community Engagement division (RUCE), as a multi-faceted strategy to improve the education system in Grahamstown.
"Rhodes is doing what no other University in South Africa has ever done – transforming the entire community from within by reviving public schools through working with principals, teachers, parents and learners. We regard this as central to Rhodes University's transformative agenda," said Mabizela.
He added that this is also a national imperative, promoting the provision of quality education for all, and to close the gap between the lowest performing and highest performing schools, which coexist in the same town.
According to Hacksley, an English teacher at Gadra, learners identified as having real potential to improve and have a real chance of upgrading from diploma are selected to attend free. "Rhodes University supplies transport, a spacious venue with advanced facilities, food, and Rhodes student tutors, while Gadra provides the teachers who have experience in teaching matric," he said.
Gadra Education's manager, Dr Ashley Westaway said, "we are excited to see what this group of young hopefuls will achieve with the intensive teaching, group work and mentoring they will receive in preparation for their matric supplementary exams over the next few weeks".
While Grahamstown is regarded as an education hub which boasts high quality schools and a reputable University, alongside these excellent schools are some of the worst performing schools in the townships. The Reviving Grahamstown Education initiative aims to respond to this dire situation most public schools in Grahamstown find themselves in through various initiatives including the High Impact Supplementary School.
This year, two 2017 HISS alumni have registered at Rhodes for a Bachelor of Arts and Bachelor of Social Sciences.
Source: Communications
Please help us to raise funds so that we can give all our students a chance to access online teaching and learning. Covid-19 has disrupted our students' education. Don't let the digital divide put their future at risk. Visit www.ru.ac.za/rucoronavirusgateway to donate