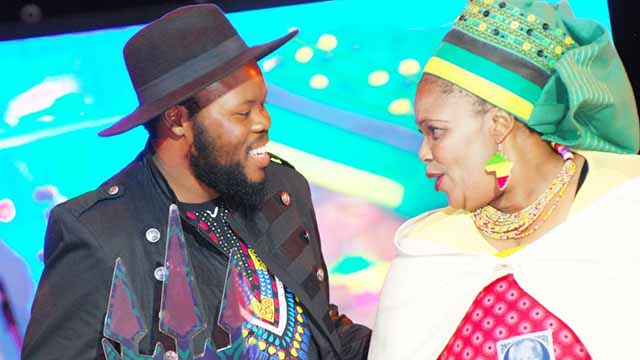 A love affair sparked in his childhood has seen a young scholar celebrated internationally for the preservation of his culture. A year after writing the first PhD thesis in isiXhosa at Rhodes University, Dr Hleze Kunju (32) was honoured with the Excellence Recognition Special Award during the Eastern Cape Department of Sports, Recreation, Arts and Culture Awards held on Saturday, 24 February 2018.
The Award is given at the discretion of MEC Pemmy Majodina, Department of Sports, Recreation, Arts and Culture who identified Kunju as a game changer in the promotion and development of IsiXhosa, among its people and in academic circles. The fourth edition of the Awards had 380 nominees, referred to as cultural practitioners, and 22 categories with the additional award given to Kunju.
Born eMqanduli 32 years ago, Kunju fell in love with his mother tongue and for as long as he can remember he was the kid who would submerge himself in isiXhosa literature while his friends focused on the subjects parents and teachers typically encourage students to pursue.
"This award is given to citizens who play an important role in advancing culture and uplifting our languages that are endangered because we do not encourage our children to speak them. Kunju wrote an academic paper in isiXhosa within a previously white institution, that is a remarkable feat," enthused Andile Nduna, spokesperson for the Department of Sports, Recreation, Arts and Culture.
Kunju's thesis is about the Xhosa people of Zimbabwe who have no written history, especially in isiXhosa. Titled IsiXhosa ulwimi lwabantu abangesosininzi eZimbabwe: ukuphila nokulondolozwa kwasohe, the thesis tells the story of a population of over 200 000 people from the Eastern Cape, predominantly amaMfengu descendants, taken in the 1800s for Zimbabwe.
"When it comes to promotion of African languages we need all the support we can get. It means a lot when that support comes from home, the Eastern Cape. We need to tell our own stories in our own languages and allow our own people to tell the stories," said Kunju.
He added that Rhodes University has done a lot of work in the development of African languages through the African Languages' SARChI Chair as well as the language committee.
"We have a great potential to be a model for other institutions when it comes to language transformation. We have potential of producing PhDs in Pharmacy and Mathematics PhDs written in African Languages," he said.
Dr Hleze Kunju is a talented powerhouse who is respected as a speaker, lecturer, researcher, author, actor, poet and a musician. He has a BA with Distinction in Instrumental Music Studies (Majoring in Drama and Music from Rhodes University), BA Honours in African Languages/ Music and Musicology having majored in African Languages, Classical Voice and Orchestra.
He has just finished translating Dr Gcina Mhlophe's classic book Have You Seen Zandile?' into isiXhosa. The book will be translated into a play to be performed in isiXhosa during the 2018 Puku Festival.
The University is also celebrating his return after a brief stint lecturing isiXhosa at the Sol Plaatjie University in Kimberly. Kunju returns to lecture Masters in Creative Writing.
"The message is we don't all have to go overseas or out of the province, we can be relevant both locally and globally," he concluded.
Source: Communications
Please help us to raise funds so that we can give all our students a chance to access online teaching and learning. Covid-19 has disrupted our students' education. Don't let the digital divide put their future at risk. Visit www.ru.ac.za/rucoronavirusgateway to donate