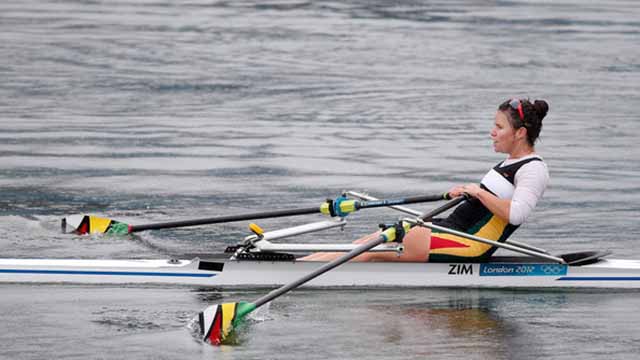 Masters in human kinetics and ergonomics student Micheen Thornycroft was this week recognised as the world's most inspirational rower. The World Rowing Federation (FISA) declared her the winner of the 2017 Filippi Spirit Award.
Thornycroft is a two-time Olympic rower for Zimbabwe and is currently studying for a Masters degree at Rhodes University. She is focusing on elite athlete performance centres specific to Africa and hopes to develop competitive structures within African nations and increase the standards of rowing throughout the continent.
The Filippi Spirit Award is given to a university rower who has demonstrated the core values of rowing in his/her social, academic and sporting life, and, through these values, also enabled or inspired exceptional success in other people's lives - for example in education, business, sports or charity.
"It is incredible to win such an awesome award, as there are so many amazing people nominated for it every year. I have always wanted to be able to give back to my University Rowing club, as they have given me so much over the years, and so it is so exciting to be able to give them a brand new Filippi 8. It is more than I ever dreamed I'd be able to give," said Thornycroft.
As a valuable member of the Rhodes University Rowing Club, Thornycroft plays multiple roles as a coach, mentor and inspiration for younger women. Despite having a demanding course and training schedule, Thornycroft manages to find time to give back to a new generation of rowers.
She is involved in a community engagement project to develop sport in underprivileged areas. She runs a junior programme at St Andrew's College and has been heavily involved in getting the local girls high school to take part in the sport.
Additionally, as part of the RowZambezi project, they raise funds to ensure clean water conservation in Africa.
"There are so many inspiring university student rowers who deserve to be recognised. This year's winner, Micheen, has balanced Olympic-level training with university studies and still found time to give back to the rowing community," says FISA President Jean-Christophe Rolland.
The winner's university rowing club will receive a custom-built, top-of-the-range Filippi 8 racing shell. Filippi Lido S.R.L. (also known as "Filippi Boats") is renowned for design, top-quality materials and state-of-the-art technology. Since 1980, Filippi has produced top Olympic-class rowing boats.
Source: Communications
Please help us to raise funds so that we can give all our students a chance to access online teaching and learning. Covid-19 has disrupted our students' education. Don't let the digital divide put their future at risk. Visit www.ru.ac.za/rucoronavirusgateway to donate