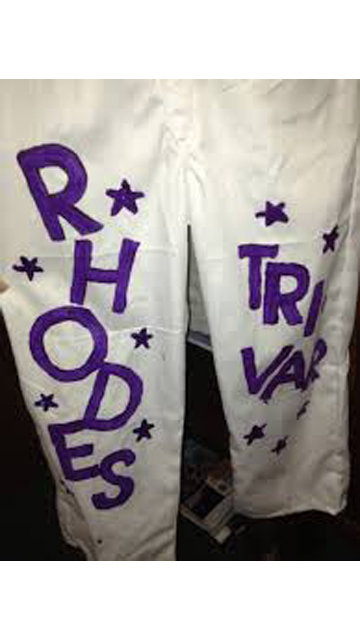 Traditions – some cherished, some silly and unique – are part of every Rhodes student's experience. One prominent trend as you might have noticed is the emphasis of overalls amongst the SRC. This is the attire for special social and sports events here at Rhodes, and every overall is made uniquely by each student. Today, the trademark white-and-purple-painted overalls are worn with pride to identify ourselves, build unique bonds and confirm our association with Rhodes University – despite the mystery about the overalls' origin.
According to Alumni Relations Officer and Rhodes Alumnus, Teryl McCarthy, the origin of overalls seems to have started somewhere between 1985 and 1992 where students both identified with workers who were struggling, while some students wanted to party a bit harder than others – saving their clothing from destruction.
"Nobody can really tell when it all started because there is no specific date. We all just started wearing overalls – and that's how it became a tradition" she said. McCarthy added that before overalls became popular amongst students, they used to wear academic gowns. "We wore gowns every day to lectures and dinner, thereafter only wore them to formal dinners," she said.
Rhodes Alumnus, Joanne Du Plessis, added that while they had to wear academic gowns to formal events around campus such as hall welcome dinners, the male drinking club members were the only ones that were allowed to wear overalls on the days they had their meetings.
SRC Liaison Officer, Eric Ofei states that when the 2010 SRC came into office, students were able to wear their overalls to the Great Field Party which was previously held in the streets of Grahamstown, in effort to create unity amongst the students. The SRC saw this as an opportunity to show the university that they were capable of hosting a more controlled and safe party.
However, over the years language and images that have appeared on some overalls have caused controversy. According to Ofei, there have been instances where offensive and obscene writing and graphic imagery were found on students' overalls. "I remember a couple of years ago, a student had sexist comments and had drawn male genital parts on his overall. He obviously got into trouble for that because it brings the university in disrepute," he said.
"I remember our warden at Joe Slovo back in 2011 used to check our overalls before going out to see if there was anything inappropriate written or drawn on them" says SRC Projects Councillor, Khulani Ngubane.
Ofei adds that while some traditions may stand the test of time, the tradition of overalls most certainly will not. "It's been over a decade now, there is no disputing that this tradition is going to go on for years to come" he said.
Article by Lesedi Ntuli
Article Source: News24
Source: News24
Please help us to raise funds so that we can give all our students a chance to access online teaching and learning. Covid-19 has disrupted our students' education. Don't let the digital divide put their future at risk. Visit www.ru.ac.za/rucoronavirusgateway to donate