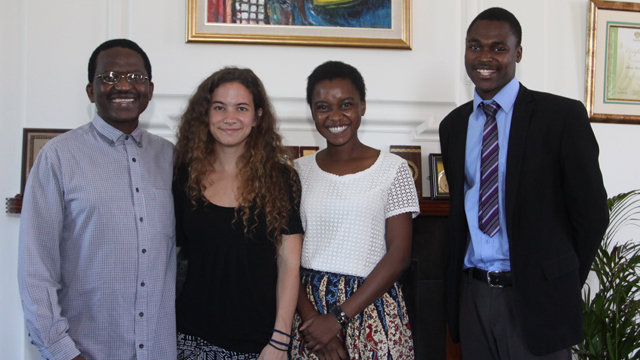 Seven Rhodes University graduates have been awarded Mandela Rhodes Scholarships for 2016. Tamika Fellows, Refiloe Kekana, Fredy Mashate, Theresa Ware, Trisha Mpofu, Kerstin Hall and Sidney Muhangi form part of the 12th cohort of Mandela Rhodes Scholars.
"We are absolutely delighted to once again attract this number of Mandela Rhodes Scholars. This is testimony to the incredible quality of the applicants that we put forward, and to the exceptional quality of education provided by Rhodes University," said Rhodes University Vice-Chancellor, Dr Sizwe Mabizela.
Three Mandela Rhodes Scholars, Tamika Fellows, Refiloe Kekana and Fredy Mashate will be continuing their studies at Rhodes University in 2016.
Fellows completed her Honours and will begin her MSc in Biotechnology in 2016.
"My project involves the development of a cost-effective, accurate and reliable CD4 aptasensor that can be used as a point-of-care testing device. The lack of CD4 testing facilities are one of the major factors limiting anti-retroviral penetrance amongst HIV/AIDS patients in Africa. The development of this biosensor can greatly improve the quality of life of many individuals by securing increased access to antiretroviral therapy and improving the procedures surrounding HIV condition management. This project is being conducted in partnership with UNICEF and it was presented to UNICEF Global Innovation," explains Fellows.
Kekana graduated with her BSc from Rhodes University in 2015 and has been an Allan Gray Orbis Fellow this year. She will be completing Honours in Statistics in 2016.
"My involvement with the Allan Gray Orbis foundation has helped me grow my entrepreneurial mindset by encouraging and empowering me to make a significant impact in the lives of others. I have also learnt to continually identify inefficiencies and provide innovative solutions for these, which is also one of my passions. This coupled with my love for learning and a great desire to inspire the same in others has led me start an initiative aimed at helping to restore the love of learning back into the South African schooling system and particularly in our high school students. I consider this as my major accomplishment," shares Kekana.
Mashate will read for his Masters in International Poverty Law in 2016. He hopes to explore the relationship between law and poverty and how we can use the law to redress the current state of international poverty.
"I aspire to lead a dual professional life, thus being a Diplomat and Human Rights Advocate. Both aspirations are strategically pursued for attainment of social justice thus placing the poor under shelter, placing food on their tables and increasing access to education for every child. This speaks to the realization of equality and human dignity which is much needed in the African context and equates to development," explains Mashate.
These Scholars, selected at the final interviews in Johannesburg and Cape Town in November, bring to 325 the total number of Scholarships awarded since the programme was established in 2004.
Photograph: Rhodes University Vice-Chancellor, Dr Sizwe Mabizela congratulates the Mandela Rhodes Scholars, Tamika Fellows, Trisha Mpofu and Fredy Mashate.
Source: Communications and Marketing
Please help us to raise funds so that we can give all our students a chance to access online teaching and learning. Covid-19 has disrupted our students' education. Don't let the digital divide put their future at risk. Visit www.ru.ac.za/rucoronavirusgateway to donate