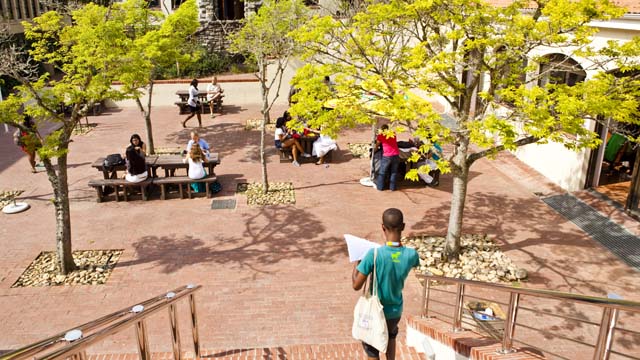 Six students from Rhodes University are among GradStar's top 100 tertiary students in South Africa.
The GradStar programme, sponsored by DHL, IBM, Comair, Accenture, Fasken and Epiroc, and set up by BlackBark Productions (creators of the Rising Star Awards) focuses on quality connections, and compliments existing employer programmes. It is designed to provide previously unrecognised students with opportunities for employment and allow them to contribute positively to South Africa's future growth.
The GradStar programme received thousands of entries from across the country and entrants were put through a rigorous four-phase judging process, conducted by Khonology, employers, and universities.
The Top 100 students are selected based on leadership criteria, and readiness for the workplace, in addition to their academic performance, and the programme culminates in employer workshops with the Top 100, who represent the financial, accounting, IT, engineering and legal disciplines, amongst others. The Top 100 graduates compete for a spot in the "Ten of the Finest" at these workshops, which will take place on 26 September, and are awarded at the Gala Dinner at Indaba Hotel that evening.
"I am particularly proud of the GradStar programme for the way it develops our very young talent in South Africa," says Laura Barker, MD of BlackBark Productions. "The Top 100 will each be connected with a business mentor, who has been recognised through our Rising Star Programme, to further ready them for the workplace. This is a unique and valuable opportunity for each graduate to draw upon the expertise and knowledge of those who have gone before them, and start their careers on a solid foundation."
The competition process is designed to emulate the process that top employers use to find their future talent and uses behavioural testing and personal interviewing amongst other methods, as measurement tools. It allows students to familiarise themselves with the formal graduate programme application process and enables them to identify their strengths and weaknesses along the way.
Dr David Molapo, management consultant, educator and well-known motivational speaker, is the patron of the GradStar programme and sees the initiative as one deserving of the support of employers and educators across South Africa. "This is a worthy programme," he says. "It is designed to uplift the student youth at this time of unrest, and provide an aspirational platform to assist them in achieving their potential."
The Rhodes University students are
Georgina Fiorentinos (Bachelor of Science graduate)
Amy Langston (Bachelor of Science graduate)
Kamogelo Mafokwana (current Masters of Chemistry student)
Thatolla Lakaje (Bachelor of Arts graduate)
Nhlakanipho Dlamini (Bachelor of Commerce graduate)
James Higgs (Bachelor of Commerce graduate)
Please visit www.gradstar.com for more information
Source: Communications
Please help us to raise funds so that we can give all our students a chance to access online teaching and learning. Covid-19 has disrupted our students' education. Don't let the digital divide put their future at risk. Visit www.ru.ac.za/rucoronavirusgateway to donate