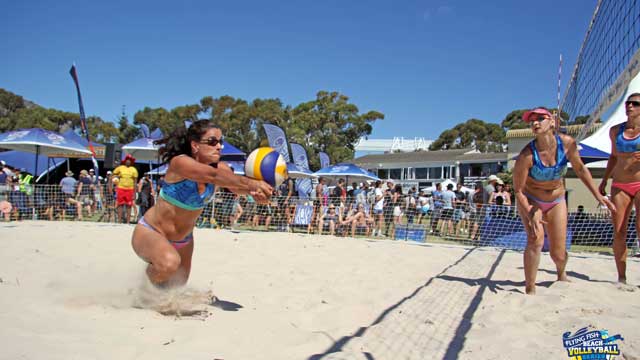 South Africa's top beach volleyball players will be competing at the Flying Fish Beach Volleyball tournament taking place between 6-8 April at Rhodes University. This will be the seventh and second last event in the 2016/17 series and will be the only Eastern Cape tournament.
"Taking the Flying Fish Beach Volleyball brand to Eastern Cape is always exciting," says Gershon Rorich, director of Beach Volleyball South Africa. "The sport is growing at a rapid speed and along with the promoters, Sports4U, and naming sponsor Flying Fish, we will continue in this fashion."
The tournament has produced a number of exciting matches and a few surprises in the last couple of tournaments. The Czech-born pair of Martina Bonnerova and Sarka Nakladalova have won both the Stellenbosch and Cape Town Tens titles, defeating the country's top-seeded duo of Lianne Vink and Dieke Hessels. Bonnerova and Nakladalova are definitely a team to watch and will tough to beat.
South Africa's top-ranked pairing, Leo Williams and Grant Goldschmidt will want to restore their reputation as tournament favourites. The Western Cape-based pair have the best winning percentage, an impressive 93 percent, in this season's Flying Fish Beach Volleyball series. Williams and Goldschmidt have played in five tournament finals, losing two of them – Tshwane and Cape Town Tens tournaments, these two defeats were their only loses since the first tournament including round-robin matches.
The action on the sand promises to keep everyone entertained while the FlavourFontein, volley-pong and exciting giveaways will add some unique flavour to the two-day event.
Source: ASEM
Please help us to raise funds so that we can give all our students a chance to access online teaching and learning. Covid-19 has disrupted our students' education. Don't let the digital divide put their future at risk. Visit www.ru.ac.za/rucoronavirusgateway to donate