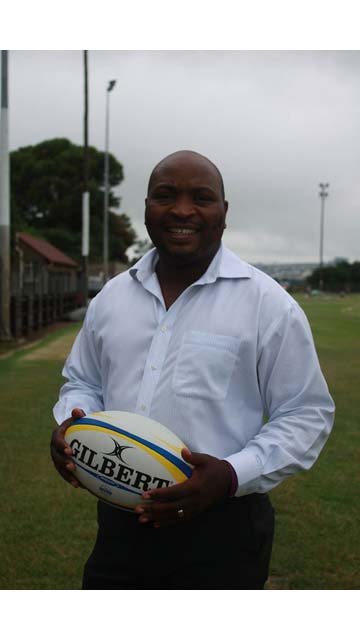 The former EP Kings U-19, African Bombers and Motherwell RFC coach was the toast of the University sports community when he was presented with the prestigious Nielen Locke Coach of the Year Award at the Annual Sports Awards Dinner in Grahamstown. The award is given annually to a coach who has done exceptionally well throughout the season and selected from over thirty coaches representing different sporting codes within the University.
Yet, as he reflects back on the 2014 season and the role it played in his receiving the Coach of the year award, Sompondo believes it's not an award he is getting alone.
"It's an award given to a coach, but it's what the team did that gave us recognition," said Sompondo, who is on his third season with Rhodes Rugby club. "I can tell you right now my assistant coaches, sports administrators, managers and players are a big part of this. I talked to each of them and I said, 'This is your award too; its a recognition of our effort. This isn't just about me. We're a whole team."
Sompondo was trying his best to be modest about his achievements, but later opened up about what it means to him and his underrated Rhodes side.
"Being at Rhodes you will always be an underdog and the South african rugby public will always look down at you because you do not play in the Varsity Cup or Shield. We are always viewed as outliers, with funny haircuts and a 'drinking problem'. But we showed we were human – we can rise above all those tags and that' s exactly what we did this year. When the curtain closes on 2014 the record books will show that we shocked USSA Rugby, beat UFH-Blues, and were six minutes away from beating UWC – we tested ourselves against the BEST, " said Sompondo.
This was indeed a good year for this Grahamstown-based University, they won five of their six pre-tournament matches – losing only one game by a single point to UFH. Those matches were against competitive oppositions such as UFH-Blues, Border Academy and Invitation sides.
They participated in Group B of the USSA (University Sports South Africa) 2014 competition against Varsity shield opponents and played extremely well – winning one of the three games they played during that week. The team ended on a 77% winning ratio, and that is probably the best of any sports side at Rhodes University in 2014.
"I had one player making EP U-19 side, another one made Zimbabwe U-20 national side, whilst three were invited for EP U-21 provincial side trials but couldn't make the final side due to academic commitments. Later this year, we will send a 7's Rugby side to George to compete in the USSA 7's competition for the first time in many years, " boasted Sompondo.
"However, it is important to put this season into context because as much as I would like to take credits for all this but so many things contributed to this –We brought back BELIEF and PRIDE to the PURPLE jersey. We put together a solid support staff, galvanized Alumni support, and organized matches with quality opposition."
"We managed to forge a solid partnership with the EP Kings which saw our support staff being trained in skills such as Video analysis, strapping, as well as having them shadowing EP Kings staff during a professional Currie Cup match" said Sompondo
The success of his Rugby side was profiled on the University's 2014 Annual publication – Rhodos – as model to be followed.
Source: Grassroots Rugby
Please help us to raise funds so that we can give all our students a chance to access online teaching and learning. Covid-19 has disrupted our students' education. Don't let the digital divide put their future at risk. Visit www.ru.ac.za/rucoronavirusgateway to donate