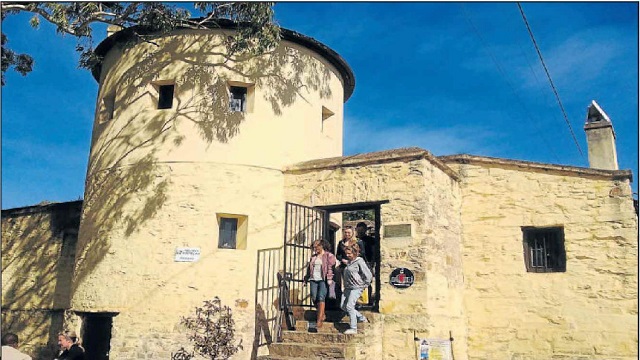 Athini Majali is a second year journalism student at Rhodes University and contributes to the online magazine, Chow Down, featuring food news in Grahamstown. Here are a few of her favourite eateries chosen by second year journalism and law students to help the first-time festival visitor.
THE PROVOST: MICHELLE LAVER, journalism: My favourite place is The Provost, inside campus, built in 1838 as a military prison. You can sit inside the open cell decorated with art and crafts or go up into the roof. The food is limited to either quiche (Banting) or paninis as well various coffees and yummy treats. It's a really cool place with a fun swing. The prices aren't bad as well.
MAD HATTERS & TWING: MAK MUZENDA,journalism:l absolutely love Mad Hatters, it's warm and cosy, plus it's not far off the grid, it's in High Street, which is like the artery of Grahamstown. Good food, great coffee, relaxed environment: itjust ticks all the boxes for me. For something a little swankier, l like to spend my evenings at Twing. It's the only place in Grahamstown that serves killer cocktails, and it's got a good ambience. If there's one thing I would like to change about Twing it's the closing time, they close way too early, it closes at 9 even on Fridays.
SAINT'S BISTRO MXOLISI NKOSI, law: Saint Bistro is my favourite place simply because it has a wide variety of dishes and they are very affordable; they've added African dishes to their menu. Also, they serve really good coffee - I like their lattes the most, Grahamstown legend has it that the coffee under the arch is great but I beg to differ, Saint's Bistro is the best.
DELlZZlA VICTORIA PATRICK, journalism: Delizzia always feels so homely and when I'm there with my friends I forget everything and enjoy my time. Their specials are great too! I've take particular liking to their breakfast, pancakes and pasta specials. They also have really friendly waitresses and owners. Fair price for the student budget as well!
REDWOOD SPUR REITUMETSE MOKOENA, law: I know it's a simple choice but I really like Spur. Simply for their great service. The waitrons actually pay attention to you. They give you their best and try to make you feel at home and, with each waitron, you can see their personality come through and thaes not always the case in other restaurants. Oh yeah, and two for one burgers on Mondays are the best!
Source: HERALD
Artivcle by Athini Majali
Source: HERALD
Please help us to raise funds so that we can give all our students a chance to access online teaching and learning. Covid-19 has disrupted our students' education. Don't let the digital divide put their future at risk. Visit www.ru.ac.za/rucoronavirusgateway to donate