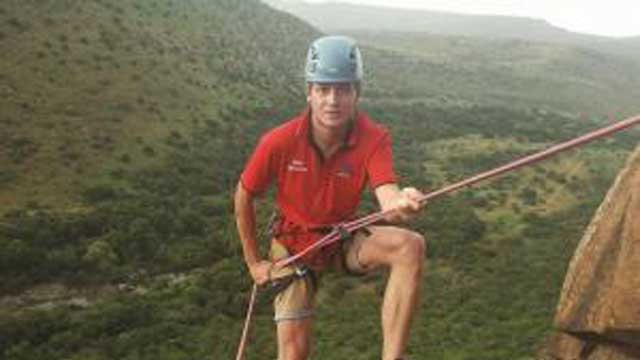 Last week, the Rhodes University Mountain Club's chairperson, David Kinsler, received the most unusual phone call.
A farmer, some 250km across the country near Tarkastad, tracked down the club with a specific request in mind.
Over the phone, he told Kinsler that he had several goats that had been stuck on a cliff for several days and, as last-ditch attempt, pleaded for The Rhodes Mountain Club to help save them.
He told Kinsler that the club would need to bring their gear to abseil down to the ledge on which the goats were trapped.
A few phone calls later, Kinsler and Kyle Johnston, the club's climbing coordinator, were on their way up to the farm that same day.
On arrival, they we were hastily rushed off on a bakkie with several farm staff who assisted in carrying their equipment up to the site.
A steep ascent later, they were at the top of the cliff, peering down at the young goats who were by now seriously dehydrated.
The students were concerned, as the farmer had warned them that he had a similar thing happen before and that as they were about to be rescued, the goats unused to human contact, had jumped to their deaths.
With that in mind, the two geared up and carefully coordinated the rescue.
Abseiling down, Johnston herded them towards a corner on the ledge while Kinsler grabbed them and hoisted them up to safety, one by one.
"There were a couple tense moments," Kinsler confessed. "One of the goats tried to jump, but Kyle just saved it by grabbing its leg.
"I also narrowly escaped a pair of horns that nicked my face and helmet."
All ended well and the duo were treated to a fantastic feast at the farmhouse that night.
David Kinsler prepares to abseil down to some goats stuck on a ledge. Photo: Supplied
Source: http://www.grocotts.co.za/content/students-unusual-rescue-14-03-2017

Source: Grocott's Mail
Please help us to raise funds so that we can give all our students a chance to access online teaching and learning. Covid-19 has disrupted our students' education. Don't let the digital divide put their future at risk. Visit www.ru.ac.za/rucoronavirusgateway to donate