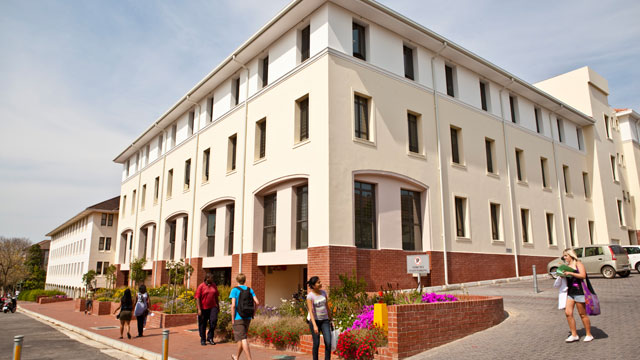 Below is some information to assist you as you prepare for the start of the academic year. Should there be anything that is unclear, please contact the Communications and Advancement Division at communications@ru.ac.za.
REVISED DATE FOR REGISTRATION FEES AND PAYMENT PLAN ARRANGEMENTS
Administrative registration for 2017 is as follows:
- Returning students is open as from Monday, 9 January to Friday, 17 February from 09h00 to 16h00 and on Saturday 18 February 2017 until 12h00.
- First year students will register on Saturday,11 February and Sunday, 12 February 2017.
The closing date for the payment of the registration fee for 2017 or the submission and completion of a financial plan has been postponed by a week to Friday, 27 January.
The lecturers have been asked to expedite the marking of exams to enable students to make necessary registration arrangements on time.
Potential "missing middle" students do not have to pay a registration fee IF they have submitted a Missing Middle Application Form by 27 January but they are still required to submit a payment plan indicating how their fees will be settled.
Students who have not submitted a debit order form or paid in full, will not be permitted to register if they do not provide a payment plan application with full supporting documentation. This includes those who have a registration fee waiver (Missing Middle or NSFAS students with own contribution).
If the payment plan includes payment of outstanding 2016 fees, a special application must be made for this (studentfees@ru.ac.za) and it will go through a vetting process. This must be approved prior to the 27 January deadline so students are urged to submit as soon as possible.
All forms and more information on fees are available at http://www.ru.ac.za/studentfeesandfinancialaid/

NSFAS
NSFAS qualifying students will not pay any registration fees.
Students who were on NSFAS in 2016 and have met the minimum requirements academically, will be funded until they complete studies provided they meet the minimum funding requirements. These students will not need to apply again.
NSFAS has made provision for students who will be writing their deferred exams provided they meet the minimum requirements for funding.
Please visit https://www.ru.ac.za/studentfeesandfinancialaid/studentfeesfaq/ To access more detailed information about NSFAS.
Accommodation
Students will only be allocated to a residence once they have paid their registration fee. The due date for the fee is 27th January.
Students who do not have an approved debit order in place OR paid the registration fee by the closing date OR have a fee waiver with an approved payment plan in place, will not have a residence room reserved for them.
Students on the waiting list for residence accommodation (those who applied late or who were not in res in 2016) will be informed of the outcome of their applications on 03 February.
Students booking accommodation for the examination period are allowed to move into residence no more than 96 hours before their first examination. They must then vacate the residence no more than 48 hours after their las examination.
Students who have valid reasons for not vacating the residence 48 hours after their last examination must make an application for a longer stay by emailing dvcacademic@ru.ac.za.
A set of residences have been identified for examination accommodation. Students coming for examinations will not necessarily be accommodated in their own residence (i.e. the residence they will live in for the rest of the year).
The 'examinations residences' will be needed for new first year students from 11th Feb onwards. Any student who has been granted special permission to stay for longer than 48 hours after their final exam will need to move into the residence they will occupy for the rest of the year on this date. Rooms must be vacated by 11h00 to allow cleaning staff to prepare for the arrival of new students.
In this communique we look at issues including registration, residence accommodation and NSFAS. However, should there be any other issues that you would like addressed, please do not hesitate to contact us.
Issued by the Communications and Advancement Division
Source: Communications
Please help us to raise funds so that we can give all our students a chance to access online teaching and learning. Covid-19 has disrupted our students' education. Don't let the digital divide put their future at risk. Visit www.ru.ac.za/rucoronavirusgateway to donate