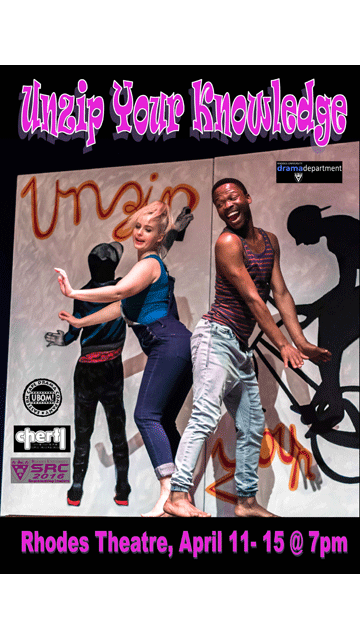 About the work | Upbeat, thought-provoking, visceral
Age recommendation | 16 +
Duration | one hour
Ticket prices | FREE
Contact | Katlego 046 603 8542 (mornings only) | k.gabashane@ru.ac.za
UNZIP YOUR KNOWLEDGE BACK FOR ITS THIRD RUN!
Unzip Your Knowledge, commissioned by the Rhodes University Centre for Higher Education Research, Teaching and Learning (CHERTL) in collaboration with Ubom! Eastern Cape Company is back for its third run in April 2016!
The hugely popular show, based on Professor Chrissie Boughey's RULearning booklet focuses on "opening up the university game to first year students". The first of its kind in South African theatre, Unzip Your Knowledge explores the academic, political and socio-economic issues any student may face in the first year, and throughout their university career. Not only does the cast unpack academic problems and ambiguities, but it also highlights how socio-economic inequalities affect the academic life of a student, as well as the university as a whole.
Themes such as #FeesMustFall, #RhodesMustFall, #WhitePrivilege, as well as what a transformed and decolonised curriculum could be are all explored in an upbeat, visceral and galvanizing theatre style that Ubom! is known for. The singing and dancing will get the audiences hooked while uncomfortable questions are raised about the state of higher education in South Africa.
Unzip Your Knowledge opens on 11 April 2016 and runs until 15 April 2016. Free of charge. First year students get preference.
Media contact | Katlego Gabashane | k.gabashane@ru.ac.za
Source: Drama Department