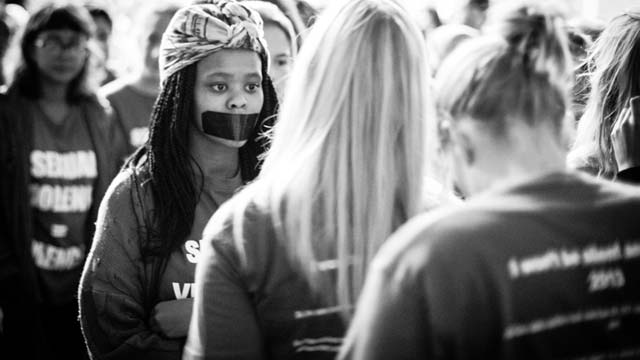 For the second time since its inception by Rhodes University seven years ago, Wits joins the annual Silence Protest by adding its voice to thousands of volunteers.
Mouths duct-taped shut for eight hours, students and volunteers will launch the Silent Protest March on Friday, 15 August 2014 from 8:00 at the Braamfontein Campus East at Wits University.
The Counselling and Careers Development Unit at Wits University joins forces with the Dean of Student Affairs' Office, the Division of Student Affairs, the Wits Transformation and Employment Equity Office, the Students' Representative Council, the Student Development and Leadership Union; and Drama for Life in the Wits School of Arts to condemn sexual violence of any nature, to support survivors and to encourage the reporting of these atrocious acts along with other institutions of higher learning to join the Silent Protest.

Survivors do not speak out

An act of solidarity with survivors of rape and sexual violence, it aims to draw public attention to the realities of sexual violence and to demand better support services for survivors. Shockingly only half a percent of sexual offenders will ever serve any jail time. Survivors do not speak out, fearing secondary victimisation or the social stigma attached to rape. The state is unwilling or unable to support victims or to successfully prosecute rapists.
After the Silent Protest March, participants will be addressed by rape survivors on the Senate House Concourse in the Senate House Building, Braamfontein Campus East. The event will be followed by a debriefing session in the Great Hall.
Workshops and several events will follow in the days after the March and in tribute to the resilience and courage of all survivors, a tree wrapping event will be held from 25 to 29 August 2014 on the Wits Library Lawns. People will be invited to pin notes of support and encouragement to the fabric throughout the week.
Wits University management, personnel and students are united in their commitment to breaking the silence surrounding the scourge of sexual violence in South Africa.
For media enquiries contact Lauren Gmeiner on (011) 717-9140/072 997 2993 or email Lauren.Gmeiner@gmail.com
Check out the Facebook page or follow the Silent Protest on Twitter: @RUSilentWit
Article Source: News24
Source: News24
Please help us to raise funds so that we can give all our students a chance to access online teaching and learning. Covid-19 has disrupted our students' education. Don't let the digital divide put their future at risk. Visit www.ru.ac.za/rucoronavirusgateway to donate