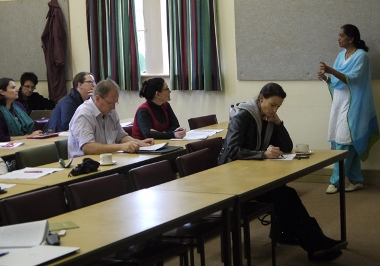 Research and innovation around teaching and learning was the theme for the Teaching and Learning Showcase on 4 November 2014. Hosted by the Centre for Higher Education Research, Teaching and Learning, the full-day campus-wide Showcase drew over 60 participants from a range of faculties at Rhodes University.
"All the presentations I attended were stimulating examples of innovative teaching and I found each useful in a different way."
Professor Chrissie Boughey – the Dean of Teaching and Learning and the Acting DVC (Academic) – kicked off the Showcase by challenging academics to move beyond commonsense ways of thinking about teaching, learning and students, and move towards grounding these in theory and research.
"Well organised in every respect and so interesting to hear about all the great work happening at Rhodes."
During the 21 presentations and two panel discussions, academic staff demonstrated how they had used various lenses to critically reflect on their teaching and their students' learning. The lenses they used included theory (social, disciplinary, learning, etc.) to ground their practice; literature on teaching and learning; and student feedback.
"The variety of presenters, and the variety in the audience. The diversity of those present created a useful space for discussions around teaching and learning, and I certainly learned a lot."
The Showcase presentations were divided into two parallel streams, and grouped into themes. These themes included curriculum design, service learning, technology, diversity, gender studies, assessment, student success and a plenary panel on the Writing Intensive Project.
"All the lectures I attended were brilliant and inspiring."
Feedback from Showcase participants highlighted the importance of the dialogue around teaching and learning issues during each session, and the scholarly teaching and learning ideas that could be shared across disciplines. The range and diversity of presentations was also appreciated by the participants, as well as exposure to the innovative and scholarly practices around teaching and learning at Rhodes.
"I'd suggest that it become an annual event on the calendar."
In the closing plenary session (and in the post-Showcase feedback), there were requests to make this an annual event, which shows an interest by academic staff in scholarly teaching practices.
"Excellent initiative and great to see that we have so many innovative lectures."
Source: CHERTL
Please help us to raise funds so that we can give all our students a chance to access online teaching and learning. Covid-19 has disrupted our students' education. Don't let the digital divide put their future at risk. Visit www.ru.ac.za/rucoronavirusgateway to donate