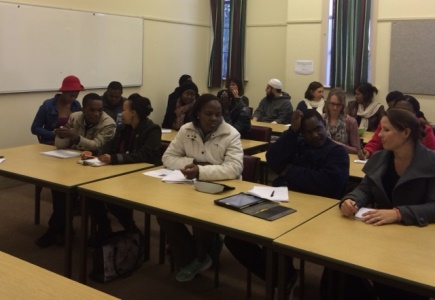 Last week approximately 33 people - mostly lecturers from Rhodes and some from Venda University and Mangusutho University of Technology as well as Rhodes postgraduate students - attended a workshop on writing for publication in higher education studies offered by Dr Sherran Clarence.
The introductory workshop was aimed at academics who are new to researching and publishing in the areas of teaching, learning and assessment in higher education, but who wish to begin doing so. In the workshop the following key issues were discussed:
What to research and how to go about doing this? What kinds of research can be done in your disciplinary area or field, and how can you begin to think about designing small-scale projects that can then be written up as publishable papers?
Choosing a journal to publish in, and looking at what journals want from you as a writer.
Some basic guidelines on what journals tend to reject, consider and accept in research articles.
Sherran Clarence is a postdoctoral research fellow in CHERTL for 2015, researching pedagogic practices in Law and Political Science with a focus on how knowledge-building is facilitated through teaching and assessment. Before joining Rhodes she was the coordinator of the UWC Writing Centre at the University of the Western Cape, where she facilitated writing for publication workshops and retreats for academics, and writing workshops for under and postgraduate students. She is the current managing editor of two international journals, Critical Studies in Teaching and Learning, and Theoria: A Journal of Social and Political Theory. Her work has been published in Teaching in Higher Education, Higher Education, and the South African Journal of Higher Education.
Source: A/Prof Lynn Quinn
Please help us to raise funds so that we can give all our students a chance to access online teaching and learning. Covid-19 has disrupted our students' education. Don't let the digital divide put their future at risk. Visit www.ru.ac.za/rucoronavirusgateway to donate