Rhodes > BioBRU > Members > Prof. Edkins Research Group > Roxanne Thornton
Roxanne Thornton
PhD Student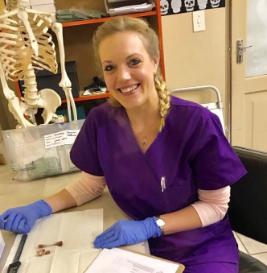 ‌
Research Project
Towards a biological profile for South African perinatal remains: Osteological and Genetic perspectives
The forensic identification of abandoned and suspected infanticide cases admitted to the South African Forensic Pathology Services is often impossible due to decomposition of the remains and lack of collateral information. Ancillary forensic testing following autopsy is difficult due to the condition of remains and inaccurate standards. In these cases, investigation of suspected criminal activity is almost never pursued. Our aim is to establish a population specific biological profile for perinates by radiological, osteological and genetic techniques. This research has the potential to provide insights in developmental genetics and forensic anthropology. These insights could assist in the routine investigation of perinatal remains admitted to South African medico-legal laboratories.
Life outside the lab...
If not at the lab bench then outdoors. Vitamin D and fresh air always beats air-conditioning and fume hoods! I enjoy horse riding, swimming and spending time with my dogs.
Contact
Rox.thornton@outlook.com
Last Modified: Mon, 03 Jul 2017 11:52:04 SAST