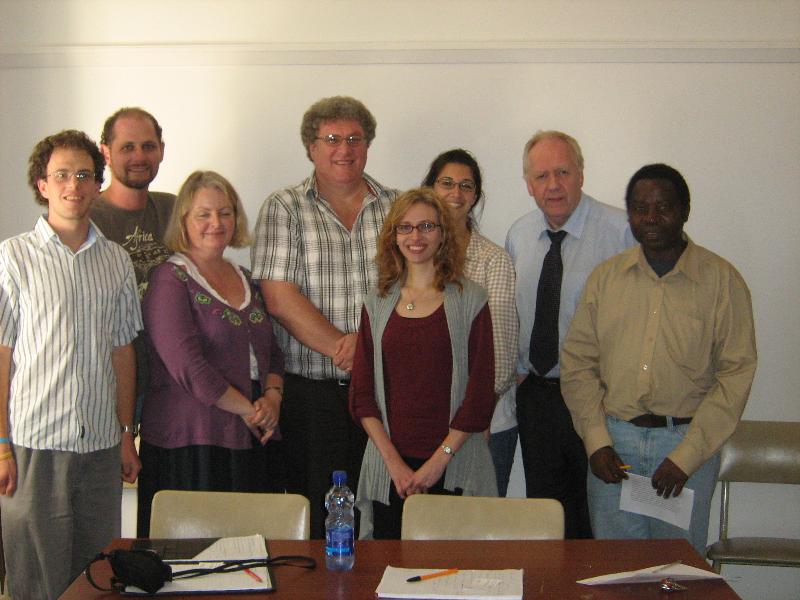 Rhodes > English Language and Linguistics > Latest News
A visitor from York
Date Released:
Tue, 19 April 2011 12:35 +0200
Professor John Local, the Pro-Vice-Chancellor for Research at the University of York and a prominent phonetician, visited the Rhodes Linguistics department on Wednesday 13 April to discuss possibilities for collaboration between the department and York's Department of Language and Linguistic Science.  This was part of a visit by a larger contingent from York to four South African universities exploring possibilities for academic partnerships.
A convivial, excited atmosphere characterised the meeting. Professor Local gave the Rhodes staff a brief description of the University of York, and then spoke in quite a bit of detail about how York's Linguistics department works. We found quite a few similarities between York's Linguistics department and Rhodes': both have strong undergraduate programmes which cover a broad range of areas within linguistics. In both departments, students learn other languages to get a feel for how the structures of different languages compare with each other. York's Linguistics department teaches French, German and Spanish; Rhodes' Linguistics department teaches a little bit of Japanese, South African Sign Language and Russian.
Because of these similarities, there were quite a few ideas of ways in which the two departments can collaborate. Sally Hunt was excited about talking with colleagues at York about corpus linguistics, and Ian Siebörger was interested in learning about research which one York linguist is doing on British Sign Language. York's Linguistics department has a very strong group of staff working in phonetics and phonology, which Zhaleh Feizollahi was eager to link up with. We agreed to see if collaborations could emerge "from the bottom up".
Professor Local agreed most strongly with us about the need to form partnerships to strengthen Linguistics as a discipline, not only in South Africa and the UK, but worldwide. "Linguistics is a very fragile discipline. There aren't many of us there," he said. "We need to be tough and hard-headed about protecting Linguistics as a discipline."

Source: