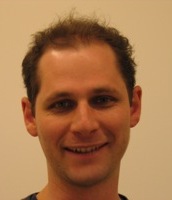 Rhodes > English Language and Linguistics > Latest News
Mark de Vos speaks on Talk Radio 702 and 567 CapeTalk
Date Released:
Fri, 25 November 2011 00:00 +0200
Dr Mark de Vos was interviewed on Talk Radio 702 and 567 CapeTalk on Tuesday 23 November, on the topic of the meanings of words, especially taboo words. Callers phoned in to ask him about how they should react to people using certain taboo words and swear words in different contexts.
According to CapeTalk's website, the interview was prompted by news that "Pakistan rowed back... from demands that text messages containing nearly 1,700 'obscene' words should be blocked, following outrage from users and campaigners. But the list was met with uproar, both at the attempt to censor messages and the inclusion of many seemingly innocuous terms, among them... 'lotion', 'athlete's foot', 'robber', 'idiot', 'four twenty' and 'harder'."
Rhodes linguists are getting plenty of airtime on the radio these days, with Ian Siebörger having been interviewed on SAFM on 6 November, and being interviewed again this Sunday (26 November). Talk Radio 702 is broadcast in Gauteng, and 567 CapeTalk is available in the Cape Town area.
Source: