October
Faculty of Law well represented on Investec Rhodes Top 100 2012
The Faculty of Law proudly congratulates those law students who were included in the Investec Rhodes Top 100 2012. These students were included in the Top 100 2012 list based on their general excellence, extraordinary contributions to and achievements in leadership, academic excellence, excellence in sport and extraordinary contributions in terms of community engagement.
General Excellence:
Silvanus Welcome
Daniel Baines
Armand Swart
Lwandlekazi Gaga
Vimbainashe Chikukwa (LLB Graduate 2011)
Cristy Lelean
Nada Kakaza
Andile Ramalohlanye
Audrey Zvinavashe
Thoko Sipungu
Leadership awards:
Mmaphuti Morolong
Viren Raja
Madiki Motsumi
Kabwela Chisaka
Academic Excellence:
Joanna Pickering
Sarah Macqueen
Lloyd Chigowe
David Grenville
Sport:
Justin Sloane (LLB Graduate 2011)
Community Engagement:
The Oppidan Press edition 8, 9 October 2012
21st African Human Rights moot court competition 1 - 6 October 2012
Mr Viren Raja and Mr Andrew Pattinson accompanied by Prof Juma represented Rhodes at the 21st African Human Rights Moot court competition which took place from 1 - 6 October 2012 at the Univerdade Eduardo Mondlane (UEM) of Maputo, Mozambique. All teams argued four times, twice on behalf of the applicants and also on behalf of the respondents. Our team unfortunately did not qualify for the finals. Viren and Andrew did well.
LexisNexis Mock Trial competition, University of North West 1 - 5 October 2012
Ms Tafadzwa Makoni and Ms Nada Kakaza, accompanied by Adv Les Roberts attended the LexisNexis Mock Trial competition at the University of North West, Potchefstroom. The selection of the students was based on their performance in an internal mock trial competition held by the Law Clinic. Adv Roberts was highly impressed with both Tafadzwa (3rd year) and Nada's (penultimate LLB) performance during the competition. Unfortuantely they were knocked out after the preliminary rounds and were placed 8th overall.
Intervarsity Moot court competition for 1st Years, Bloemfontein 6 - 7 October 2012
Mr Justin Brown, Mr Malibongwe Cebekulu, Ms Moyo Vaughan-Williams and Ms Tegan Phillips, accompanied by Ms Davies and Ms Heideman, represented Rhodes at the intervarsity moot court competition for 1st year law students in the Supreme Court of Appeal, Bloemfontein. Although the two teams did not make the final, they acquitted themselves admirably in the competition and did us proud. The winners of both the English and Afrikaans sections were the University of Pretoria.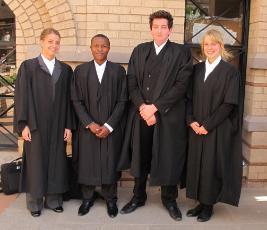 September ‌ ‌
http://www.polity.org.za/article/sa-statement-by-hugh-glenister-johannesburg-businessman-on-awards-given-to-south-african-young-minds-01102012-2012-10-01
Submissions: The Justice League
The Justice League Rhodes University Anti-Corruption Act
The Justice League Rhodes University Explanatory Memorandum
Submissions: The Phoenix Team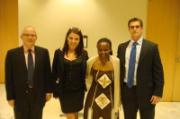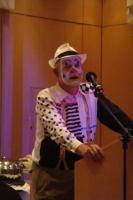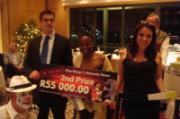 Child Law Moot competition, University of Pretoria
Ms Kefentse Letlala and Mr Darren Anderson, accompanied by Ms Brahmi Padayachi represented Rhodes University, Faculty of Law at the Child Law Moot Competition at the University of Pretoria 21 - 22 September 2012. The final was argued before Judge Jody Kollapen in the North Gauteng Palance of Justice and was won by the team from the University of Pretoria agains University of Campe Town. At the closing ceremony, Darren received a special mention for his arguments during the competition for both the applicants and respondents. The topic was on 'Adoption with an international and local element by a same sex couple' which tested the principle pf subsidiarity and cultural rights. Our team was placed 3rd overall.
LLB Penultimate Year Moots Final
Congratulations to Ms Sarah Macqueen who won the LLB Penultimate Year Moots 2012. The final took place on 4 Seotember. The top two students aregued befre three judges: Adv Toquil Paterson SC, Adv Ntsikelelo Sandi and Dr Gustav Muller.
May
Rhodes Law students take an Epic adventure
Date Released: Tue, 22 May 2012 15:59 +0200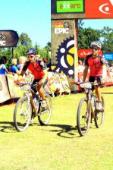 "Nick and I actually finished the Cape Epic! It was hectic!" are the opening words of Andrew Lowndes' blog. Entirely of their own volition, Lowndes and fellow LLB student, Nick Theron, cycled all 781km of the Absa Cape Epic recently.
With only five months of training behind them, the two friends had decided to enter the race after making a bet at a friend's 21st birthday party. "Nick's dad had raced the Epic so we got to talking about it and we both were really keen so we agreed to try and enter," said Andrew, who made what is called a wild-card entry, after which the participants are selected via a lottery. A mere six months ago, they received an email saying that they had been chosen to compete against cyclists from all around the world.‌
Right off the bat, the plan was to race in aid of charity so they chose Sabrina's Love in Plettenberg Bay, a home that cares for children with special needs. Raising R4 300, they have ensured that Xolisa, a 16-year-old paraplegic boy can continue attending Oak Hill independent school in Knysna.
Local support was most evident when Motion Cycles in Cuyler street agreed to give them free services and a 20% discount on all gear and energy gels. Leading up to the race, Theron said: "All we did each and every weekend leading up to the race was sit on our bicycles," admitting that "it was a bit of a social sacrifice." Lowndes said that as they headed out to train at 5am each morning
The race is televised live on Supersport and is divided into eight stages or days, starting off in Durbanville and ending at Lourensford Wine Estate in Somerset West. With 16300m of climbing (double the height of Mount Everest) it was hugely challenging as each team had to stick together and finish within two minutes of each other to avoid being disqualified.
After being warned that day three is the worst –a 143km stint with 2900m up-climb– they were surprised to find that it was one of their best days, they made good time and the weather was fine. "Day 4 and 5 were the worst; 105km with a massive head wind, it was demoralising," said Theron.
They were lucky to not have had any medical emergencies, despite many little tumbles, which they said ended up being a bit of comic relief. Lowndes said his best moment was day 6, after the wet day, "climbing up with amazing panoramic views at the top of the mountain". Crossing the finish line together, Lowndes said "After all that we went through, from the melancholic lows to the indescribable highs, Nick and I have forged a bond."
They both agree that the most rewarding aspect of the experience was the great support they received from friends and family, with even some strangers sending encouraging words via Facebook and Twitter.
"A lot of it is in the head, which is why it's important to take it one step at a time- don't over think it. Literally, most of the time we would go from water-point to water-point," said Lowndes.
You can make donations to Sabrina's Love via the website
http://www.backabuddy.co.za/sabrina-on-the-epic
By Anna-Karien Otto
Photo: supplied.
April
Ken Obura - "Public Lecture"
CUT commemorates World Press Freedom Day in style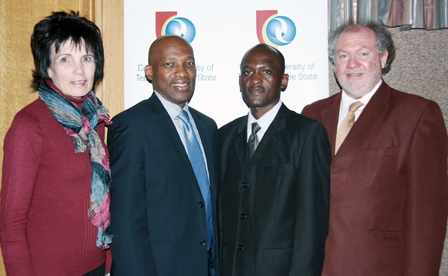 Academic Freedom is the lifeblood of any institution of Higher Education, and the current proposed State Information Bill might encumber the very principle on which research, teaching and learning is based – the freedom to inquire and communicate ideas or facts that might not always be popular.
On 3 May 2012 CUT hosted its now well established monthly Guest Lecture Series to engage about issues that are important to not only academics but society in general. Mr Ken Obura, an advocate of the High Court of Kenya and PhD candidate in law Rhodes University, presented a guest lecture entitled "The effect of the Protection of State Information Bill on academic freedom". He is the lead partner who drafted the position paper for the Higher Education South Africa (HESA) on the Protection of State Information Bill and what affects the bill can have on institutions. The bill is perceived by many as a potential threat to freedom of expression and as such to academic freedom widely enjoyed within the academic cycles. The controversial State Information Bill has become a topical debate within the media space and public institutions including universities.
The South African Constitution 16(1)d states that everyone has the right to academic freedom and provides individuals and institutions of Higher Education to be protected. "Academic freedom is a believe that academics and students and should be allowed space to research their work using government information in their theses, articles, and also classrooms, therefore the bill has implications for us in academia." said Mr Obura.
As it currently stands, there are two types of information referenced in the bill; namely valuable information and classified information. Valuable information is protected by institutions and will be administered by the relevant holder, while classified information must be classified and administered by national security bodies of which a total of over 100 currently exist. There will be three categories: classified, secret, and top secret each holding a potential 5, 15 or 25 year jail sentence if found in a person's possession. "The problem is liability. You will be liable if the information is in your possession even if you retrieved it from a public domain if you do not come forward immediately and declare you have said classified information". A step of checking if information might be classified with all security agencies in country will be added to research process on top of traditional research procedures. The HESA committee recommended a public domain clause – unclassifying information if it is in the public domain - be added to avoid such an error from occurring unknowingly and to circumvent the checking with all security agencies at the same time.
The other potential problems for higher education are the length of time that you can wait for the application of security clearance due to unstipulated amount of time in the bill, and the length of time (20 years) that information will be classified for. "Other countries usually classify information for 5 to 10 years, the research or study might be out of date by the time information is accessed" said Mr Obura.
In conclusion he stated that we should look at academic freedom as a tool to improve the world around us, and not just as something out there and available.
Prof. Talvin Schultz, Deputy Vice-Chancellor and Principal: Institutional Planning, Partnerships and Communications closed of the session by thanking Mr Obura for his interest in this particular field and his diligence and application in protecting Higher Education.
Pictured is Prof. Frances van Schalkwyk, Director of the School of Design Technology and Visual Art at CUT, Prof. Thandwa Mthembu, Vice-Chancellor and Principal at CUT, Mr Ken Obura, and Prof. Laetus Lategan, Acting Deputy Vice-Chancellor: Academic at CUT.
March
LLB Final Year Moots 2012
The 2012 final year moots took place with staff members presiding. The two bets final years were Viren Raja and Andrew Pattinson, who competed in the Moot Final on 28 March before a Bench of 3 judges comprising Judge Judith Roberson, Adv Gerald Bloem SC and Dr Gustav Muller. The winner was Viren Raja.
Last Modified: Tue, 13 Nov 2012 08:19:25 SAST