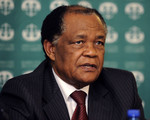 Retired Gauteng Judge President Bernard Ngoepe says there is a need for lawyers to be trained properly, and has called for the "genuine" postgraduate LLB degree to be brought back.
His comments on Thursday evening come amid concern in the legal fraternity over the quality of the four-year LLB programme.
Dean of the Rhodes Law School, Jonathan Campbell, said earlier this year that it was better to have fewer well-equipped lawyers entering the market than larger numbers of ill-equipped graduates.
The University of the Witwatersrand (Wits), along with Rhodes University, have already implemented plans to discontinue the four-year degree. After 2015, Wits will require students to complete a degree in any field before pursuing the LLB as a postgraduate qualification.
In 1997, the LLB was changed from a postgraduate degree to its current form because the length of study was seen as an impediment to those without financial means.
At a round-table discussion organised by the Black Lawyers Association Student Chapter (BLASC) and the University of Johannesburg, Judge Ngoepe said that black people had always been capable of acquiring the postgraduate LLB degree.
"There was no need to abolish the old postgraduate LLB degree to accommodate black practitioners," he said.
Deputy Minister of Justice and Constitutional Development John Jeffery said there was a lack of transformation in the legal profession.
He said of the 22,000 practising attorneys in 2014 in South Africa, only 4,930 were black, while 14,189 were white. But there had been an increase in the number of black graduates. Last year, 2,039 black students graduated with the four-year LLB as opposed to 1,092 whites.
Mr Jeffery said there was also the question of what was being taught during the degree.
Judge Ngoepe, who last year was appointed South Africa's first tax ombud, said the change to the LLB degree entailed taking what was a BProc degree and adding one or two more courses and calling it an LLB.
Only 22% of students completed the degree in the allocated four years. It was also found that students who obtained a BA Law or BCom degree before registering for an LLB had a higher completion rate in the minimum period compared to those who studied for the LLB as a first degree.
The judge suggested a junior law degree to help people access the profession sooner, with a proper postgraduate degree for those who wanted to study further.
"If we were to bring back the old LLB degree with its complete curriculum, I can assure you we will know more and more and more," he said.
In 2013, the South African Law Deans Association published a position paper for the current LLB programme to be extended to five years to rectify a lack of skills evident in students entering the legal profession.
Monique du Preez, director of knowledge management for law firm Cliffe Dekker Hofmeyr, said the company would like to focus on legal technical training and drafting, but could not due to students' weak knowledge base.
"We can't do that (focus on training) with our 70 candidate attorneys if we are required to develop basic skills training tools to teach them how to read, how to write, how to formulate an argument, how to reference their work," she said.
BLASC spokesman Mark Morgan rejected the idea of the five-year degree and "any other attempt to stifle transformation". This was also the view of the BLASC national executive committee.
The BLASC did concede shortcomings in the lawyers produced from the four-year programme, but felt it was an issue of the curriculum rather than length of the degree.
BY PERICLES ANETOS
Picture Caption: Bernard Ngoepe. Picture by : RUSSELL ROBERTS
Article Source: Business Day
Source: Business Day Live
Please help us to raise funds so that we can give all our students a chance to access online teaching and learning. Covid-19 has disrupted our students' education. Don't let the digital divide put their future at risk. Visit www.ru.ac.za/rucoronavirusgateway to donate