Rhodes > Music > Study
Study
‎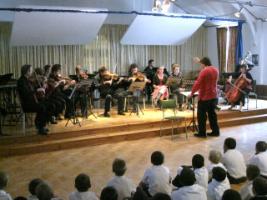 Undergraduate Study
There are three year-long credits in either Music 1, 2 & 3, Ethnomusicology 1, 2 & 3 or Instrumental Music Studies (IMS) 1, 2 & 3. Music consists of music history and music theory, Ethnomusicology is the study of music and culture, and IMS consists of one-on-one lessons with an instrument teacher.
BA/BSc Honours and BMus 4th Year
At this level you can specialise in research, performance or composition, and choose from a number of optional courses. These are: Ethnomusicology, Analysis, Performance, Composition, Acoustics, Conducting, Sound Technology, Music and the Media, Extended Essay, Musicology, Arts Management, Music Education.
One of the advantages of being a small university is that Rhodes has been a leader in interdisciplinary study – we have been pioneers in producing graduates who have done Music and Computer Science, Music and Physics, Music and Mathematics or Music and Journalism, for example.
Sound Technology
Sound Tech 1 is a year-long credit which does not require any prior musical knowledge. You will learn about analogue and digital audio, how to use a mixing desk or a live PA system, even how to record a band.
Ethnomusicology
Ethnomusicology is another popular music subject which does not require any prior musical knowledge. In Ethnomusicology, you will learn about how music relates to different cultures in Africa as well as the rest of the world. The theoretical component of the course is taught in lectures, whereas the practical component (marimba playing etc) is taught at the International Library of African Music (ILAM), a great facility which we are lucky to have on our doorstep.
History and Appreciation of Music
History and Appreciation of Music is a general introduction to music, from the beginning of western art ("classical") music through jazz and contemporary popular music, and also does not require any prior musical knowledge. South African protest music is also covered in this course, as well as traditional African music and even the social history of Rock music.
Music, Health and the Brain
This interdisciplinary course (2nd semester only) includes modules covering the relationship between music and emotions, human identity and meaning, language, sports psychology, music therapy, and neuroscience. This course also does not require any prior musical knowledge.
Postgraduate Study
The Music Department at Rhodes offers many exciting opportunities for post graduate study, and Rhodes is now accepting applications for 2011.
In addition to enjoying all of the advantages Rhodes Music Department has to offer (individual attention, inspiring environment, well resourced library, outstanding and committed staff), post graduate students can also make use of the Research Commons, a scholarly common room for senior postgraduate students and academics, supported by the Carnegie Corporation of New York. It is located on level 2 of the Rhodes University Library, beyond the Science Faculty hub, and is open, via access control, to academic and research staff, post doctoral students, and postgraduate students at master's and doctoral level.
Experienced library staff members are on hand to assist with users' information needs and to arrange consultations with subject specialists as needed. The facility will be overseen by post-graduate student assistants after office hours. Facilities include high-end PCs, laptops for loan-use in the Research Commons, high-speed internet access, printer-copiers, and a scanner, as well as a consultation room/office and a seminar room.
For Rules regarding study, please see our Rules page.
For information on syllabi, please see our Syllabi page.
Last Modified: Wed, 22 Apr 2015 14:10:22 SAST