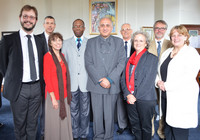 Rhodes > School of Languages > Latest News
French Ambassador visits Rhodes
Date Released:
Thu, 24 April 2014 08:45 +0200
French Ambassador Her Excellency Ms Elisabeth Barbier visited Rhodes University recently and met with a range of dignitaries, staff and students at Rhodes and the Diocesan School for Girls (DSG). As a lively hub for the promotion of French language studies, which is taught at DSG and St Andrews College and Kingswood College, and offered as a major at Rhodes, the Ambassador took part in discussions to consider a possible partnership with Rhodes' School of Languages.
Accompanied by French Language attaché Mr Patrick Parrot, Director of Alliance Française in Port Elizabeth Mr Aurélien de Chappotin, and President of Alliance Française in Port Elizabeth Mr Michel Beauvais, also a Rhodes Alumni and an ex-warden, Ms Barbier met with Director of the International Office at Rhodes University Ms Orla Quinlan, Deputy Dean of Humanities Professor Tom Martin, Head of the School of Languages Professor Patrice Mwepu and French Studies Section Head Dr Claire Cordell as part of the one-day event. The visit was coordinated by Dr Cordell.
In addition to the dignitaries and staff, first, second and third year students from French Studies as well as two PhD students attended the meet and during which Prof Mwepu, Head of the School of Languages and member of French Studies, welcomed the Ambassador with an elegant speech.
Rhodes University third-year student Ms Buhle Ndaba presented the Ambassador with a gift, after which the Director of the Alliance Française in Port Elizabeth, Mr de Chappotin handed out a prize to Ms Chelsea Haith for her entry in a poetry competition launched by the Alliance. Ms Haith was awarded a Larousse cookbook with 400 recipes for pizzas and snacks. During the function the attendees also viewed three video clips made by the Alliance in Port Elizabeth focusing on the Ten Words chosen to celebrate the French language in 2014.
This trend is part of the annual world-wide celebration of the French language in March every year during which ten French words are selected for discussion. The Alliance Française in Port Elizabeth filmed students studying at Nelson Mandela Metropolitan University and Rhodes University, as well as learners at Kingswood College, Diocesan School for Girls in Grahamstown and the Alliance itself, debating the meaning of the various words. The clips were both entertaining and instructive.
Following the function in the French Seminar room, a finger luncheon was held in honour of the Ambassador's visit in the Classics Seminar Room and Classics Museum, attended mainly by French-speaking members of Rhodes University staff, students from French Studies, as well as representatives from Kingswood College, DSG and St Andrew's College.
The Ambassador then met with Rhodes University Vice Chancellor Dr Saleem Badat and briefly visited the refurbished Rhodes library to see what French books were available. Following this she met with Professor Jobst Bodenstein, Director of the Rhodes Law Clinic, and Deputy Dean of Law at Rhodes University, Mr Gordon Barker. The Rhodes Law Clinic has previously received funding from the French government for some of its projects.
During her visit the Ambassador was informed by Director of the International Office at Rhodes University Ms Orla Quinlan of the current National Research Foundation (NRF) and Rhodes University research partnerships and collaborations involving Rhodes researchers and Universite de Rennes, Ecole Nationale Superieure de Chimie de Paris and Observatoire de la Cote d'Azur at the Universite de Nice Sophia-Antipolis as well as French institutions with which Rhodes has had student exchanges, including Ecole Norméale Supérieure (Paris), Ecole Supérieure des Sciences Commerciales (Angers), Institut Albert Le Grand (Angers), Institut Catholique D'Etudes Supérieures (La Roche sur Yon), Institute d'Etudes Politiques Science Po Aix (Aix-En-Provence), L'ecole de Management Strasbourg (Université Robert Schuman, Strasbourg) and Université Jean Monnet (Saint-Etienne).
Ms Quinlan shared a photograph of South African students who had represented France at the International parade hosted by Rhodes University in 2013 and the Ambassador was reportedly "delighted" with the presentation. Mr de Chappotin also expressed interest in attending the 2014 parade scheduled for May. Ms Quinlan also presented the Ambassador with a copy of the International Education Association of South Africa (IEASA) Study SA annual publication and shared some information on the approaches to Internationalisation employed at Rhodes University and across a range of Higher Education institutions in South Africa in general.
According to Ms Quinlan, "I attended a wonderful finger-food luncheon organized by the French department, where many of the French and Francophone contingent on campus met and spoke with our guests in French. The room was buzzing" and people mixed well and enjoyed practicing their French. The Ambassador later commented that she was very impressed with the students' standard of French."
Photo by: Odifentse Lehatsa
Source:Communications