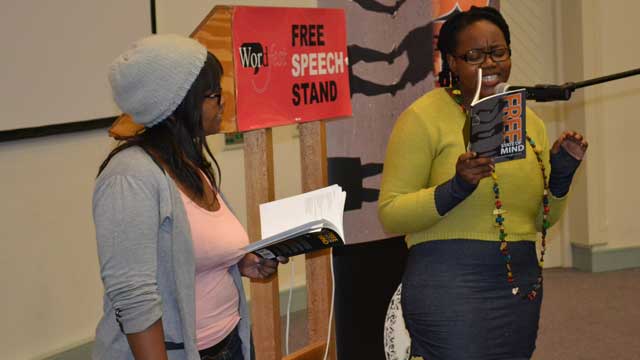 Rhodes > Wordfest > Latest News
Wordfest 2017
Date Released:
Thu, 30 March 2017 16:03 +0200
Wordfest is a festival celebrating multilingualism, reading, writing and promoting new and established authors. Make time between the 1st to the 7th of July 2017 to become part of the spirit of Wordfest. Wordfest is packed with entertainment and caters for all kinds of literary interests. From autobiographies, current affairs, fiction, historical biographies, language, literary biographies, politics and sport.
Wordfest boats a line-up of prominent people from various fields from Professor Barney Pityana, Helen Zille, former Deputy Chief Justice Dikgang Moseneke, former Constitutional Court Judge Albie Sachs, Professor Ashwin Desai, Professor Michael Neocosmos, Professor Richard Pithouse, Professor Susan Booysen; to debut novelists Nkosinathi Sithole and Ekow Duker and a host of other brilliant minds across the spectrum.
Make time during the Grahamstown National Arts Festival to attend Wordfest. Come and listen to former Chief Justice Moseneke tell you how he learned to become his 'Own Liberator'; listen to Hellen Zille (Not Without A Fight) give you a behind the scenes look at some of the battles she has fought like the Nkandla renovations, infighting within her party and her personal journey.
Listen to journalist Thandeka Gqubule (No Longer Whispering to Power: The Tenure of Thuli Madonsela) talk about her book on the 7-year tenure of former Public Protector Thuli Madonsela. The book looks atthe ups and the downs as well as the determination and the personal code that sustained Madonsela through her tenure.
Listen to Desai (The South African Gandhi) demystify the figure that is Mahatma Gandhi and show you a side to Gandhi that is often exempt from scrutiny – his 'disdain' for Africans and his ready support for Empire. Desai (Reverse Sweep) again looks at the development of cricket in the post-apartheid era. He gives a frank and refreshing look at the achievements as well as the failures in transforming the sport of cricket in South Africa.
On current affairs Professor Booysen's Book: Fees Must Fall, gives an analysis of the student revolt that has revealed the discontent seemingly long haboured by students in post- apartheid South Africa. Professor Neocosmos' Thinking Freedom in Africa, analyses African thought and 'agency' on emancipation in a context that may befit the current conditions.
Professor Lucy Newlyn takes us on a journey to examine the close relationship of William and Dorothy Wordsworth and their legacy in writing and in prose. She tells about the cultural importance of approaching creativity 'as a gift economy rather than a route to fame'.
Wordfest 2017 also brings you new authors - Nkosinathi Sithole (Hunger Eats a Man) who tells the stories of poor rural folks – the challenges they face daily and their triumphs over difficult odds and Marcus Low (Asylum) launches his debut novel that tell of a man's unavoidable lock up compulsory in a TB hospital.
There are a lot more events in store at Wordfest including book sales, chances to meet with the authors, panel discussions on interesting topics covered in the various books, Open Mike sessions, and a coffee shop and restaurant will be available. Don't miss out on these exciting events and take the opportunity to grow with Wordfest. Wordfest is hosted at Eden Grove Building, eRhodes University, Grahamstown.
Source:wordfest