100 YEARS: UNIVERSITY OF FORT HARE PRINT EXCHANGE AND EXHIBITION
(March to June 2017), Convened and curated by Thando Mama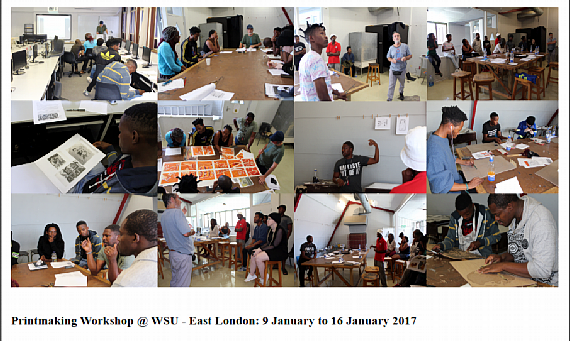 Artist and MFA candidate at Rhodes University, Thando Mama, convened and curated 100 Years: University of Fort Hare Print Exchange and Exhibition, which took place at the Steve Biko Centre in Ginsburg, King William's Town in the Eastern Cape.
The 100 Years: University of Fort Hare Print Exchange and Exhibition celebrates the centenary of the Fort Hare University and honours the role that black modern and contemporary artists have contributed to the field of arts and culture in South Africa over the years.
The artists in this exhibition – most of them from Walter Sisulu, Fort Hare and Rhodes University – pay homage and tribute to artists whose work is in the collection (Contemporary South African Black Art) at the University of Fort Hare, bringing the existence and importance of the collection of black artists in South Africa to the general public. The response speaks to the old masters such as George Pemba, Gerard Sekoto and Gerard Bhengu to Gladys Mgudlandlu, Dumile Feni, Billy Mandidi, Lucky Sibiya, Lefifi Tladi and many others, reminding us of our rich artistic and cultural production, using the medium of printmaking.
The University of Fort Hare has a special history on the African continent, and as a place of higher learning for Africans it contributed positively to the socio political landscape of the continent as a centre of education and of black excellence; the Fine Art Department at the University played an important role in art education for black students in the country, as it was the only university that was open to black students in the 1970s. Twenty-five years after the fall of apartheid and the publication of EJ De Jager's book Images of Man: Contemporary South African Black Art and Artists; it is a good time to revisit this collection, to draw from it and to link a younger generation of artists with the older generation, and to present the artistic community with new perspectives today.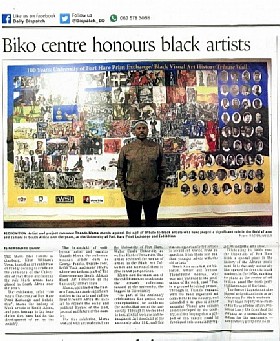 ‌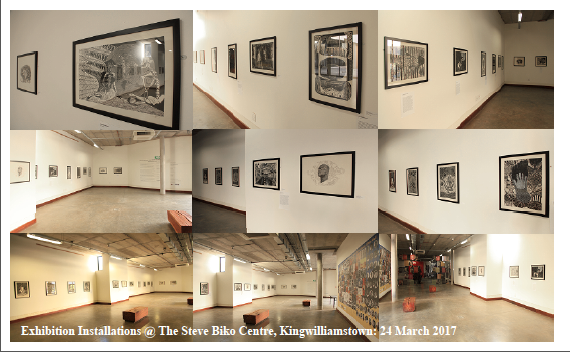 Thando Mama is an artist who has exhibited extensively in South Africa and abroad. He is currently a MFA candidate at Rhodes University, and participates in the Arts of Africa and Global Souths research programme.
Photographs courtesy of Thando Mama.
Last Modified: Mon, 18 Sep 2017 12:11:42 SAST