BISMILLAH
By Igshaan Adams
Performed in the basement of the 1820 Settlers National Monument, National Arts Festival, 2014,
Bismillah was one of four BLIND SPOT performances curated by Ruth Simbao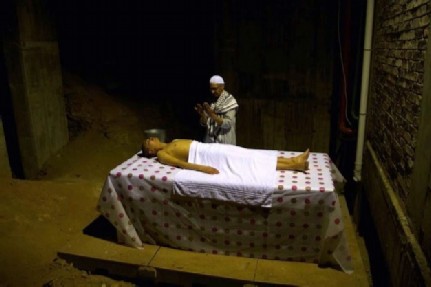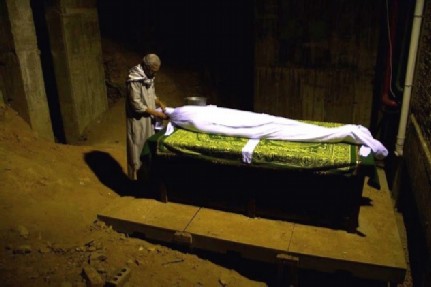 Bismillah was performed by Igshaan Adams and his father, Amien Adams, in a dark, dusty basement – the 'underbelly' of the 1820 Settlers National Monument that became a grave-like site. Following the Islamic ritual of preparing the body of a relative for burial, Amien Adams tenderly washed, dried, perfumed and wrapped the body before him.
Photo: Ruth Simbao (please do not use without copyright permission)
Funding was received from the National Arts Festival
To Read more on Bismillah go to Blind Spot performance booklet.
Last Modified: Tue, 15 Aug 2017 16:48:10 SAST