framed in colonial lenses
by Moffat Takadiwa
RAW Spot Gallery, Arts of Africa and Global Souths
Moffat Takadiwa, the Zimbabwe born artist was the Residencies for Artists and Writers (RAW) Fellow in the Arts of Africa and Global Souths for the months of July and August 2018. These two months in residency culminated in a solo exhibition titled 'Framed in Colonial Lenses' in which he called on Africans to "rethink disciplines and definitions inherited from colonial registers and to create their own frameworks" (Chikowero, 2018).
In this work, the artist sought to "explore the legacy of cultural imperialism perpetuated by language." In his words: "Dismantling colonial rule requires not simply the transfer of the instruments of government, but overcoming colonial cultural legacies, including language." He drew inspiration from the calls for decolonization and transformation by students in the tertiary institutions of South Africa through movements like 'Rhodes Must Fall' at the University of Cape Town. He was also inspired by the philosophies of thinkers like Kenya's Ng?g? wa Thiong'o and Zimbabwe's Mhoze Chikowero.
With the help of a team of Fine Arts students from Rhodes University – Aadila Chand, Aimelee Richter, Jodie Pather, Philippa Taylor, Thabisa Mafana and Wynona Mutisi – Takadiwa assembled a massive wall sculpture of black keys selected from an assortment of discarded computer keyboards gathered in Johannesburg for the exhibition.
The Harare based artist is famous for his trademark sculptures constructed from remnants of consumables that include perfume cans and bottle tops and the discarded computer keyboards. He belongs to the generation of Zimbabwe's young contemporary artists who turned to working with found objects as an antithesis to the nation's seemingly endless economic crisis.
Written by Ticha Muvhuti, PhD candidate Phd Candidate with the NRF/DST SARChI Chair Geopolitics and the Arts of Africa, Arts of Africa and Global Souths research programme headed by Prof Ruth Simbao at the Department of Fine Arts, Rhodes University, South Africa.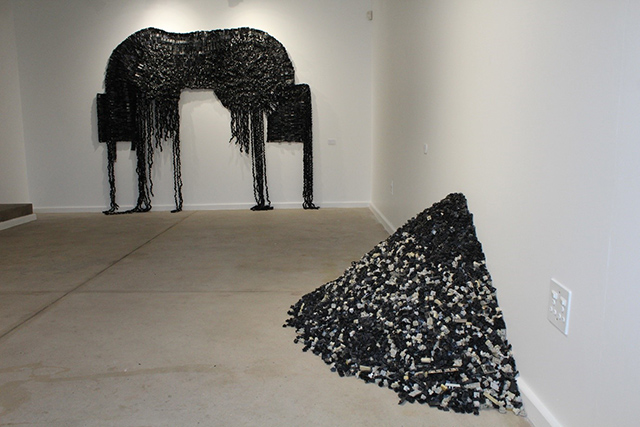 Framed in Colonial Lenses by Moffat Takadiwa opened on the 17th of August and was up for a month.
Reference
Chikowero, M. 2018. In Simbao, R. (Ed). 'Zimbabwe Mobilizes: ICAC's Shift from Coupe de Grace to Cultural Coup'. African Arts, 51(2):4-17
Last Modified: Mon, 11 Feb 2019 12:08:30 SAST