INZWI!
Curated by Tshilumba Mukendi and Mpumzi Mpati
Fine Art Department Gallery, July 2017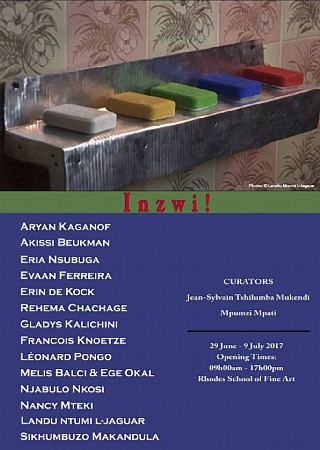 ‌
Inzwi! was an art event during the 2017 National Arts Festival in Grahamstown that celebrated the 5th anniversary of the Lucid Lunchbox, a student-led series of talks linked to the Arts of Africa and Global Souths research programme at Rhodes University. During the festival, five sets composed of three videos interjected the talks presented by Dineo Seshee Bopape and Beth Diane Armstrong, as well as a conversation between Andrew Tshabangu, Thembinkosi Goniwe and Philiswa Lila.
The event intended to trigger reflection and dialogue, through a 'wake-up call' to grapple with our collective heritage and struggles, our fears and points of departure in order to envision futures. The selection of videos drew from the work of Rhodes Fine Art students, Alumni and Artists in Residence. Works on display addressed matters of identity (social, political and/or fictional); social engagement and activism; religious and spiritual practices in African contexts; race and white supremacy; and, finally, patronising relations in the art world. Borrowing from the words of Weléla Mar Kindred, the choreography of this event, like others that have been propelling black body politics in recent movements, is one of "communal healing, strength and solidarity".
Biographies of participating artists:
Pongo started photography in a documentary fashion, which he gradually merged with snapshot and diary styles. His long-term project The Uncanny has earned him several international awards and world-wide recognition. His photographic career is shared between his long-term projects in Congo DR, his involvement with the Congolese art scene, and his teaching and assignment work.
Erin de Kock (b. 1996, Johannesburg) is a third-year undergraduate Visual Art student studying at the University Currently Known As Rhodes (UCKAR). Currently working within the areas of installation and performance, her work deals largely with identity politics within the middle class white South African home. Her work has been exhibited during the National Arts Festival (2015 – 2017).
Eria Nsubuga, also known as SANE, is a visual artist and a Lecturer in Painting at Uganda Christian University in Mukono Town, Uganda, and a PhD candidate in practice-based Fine Art at Winchester School of Art, University of Southampton, United Kingdom. His art career and scholarship are driven by subjects of power, politics, race, and invisibility.
Melis Balci and Ege Okal are independent animation filmmakers living and working in Istanbul. They studied Visual Arts and Communication Design. Merkür is their first animation film as a duo.
Born in Kinshasa (Democratic Republic of Congo), Landu, commonly called "Jaguar", was initially trained as a sculptor, but he soon developed other means of expression as a way to confront his perpetual questioning about societal matters. In revealing a part of himself, in engaging us with an introspective process, he presents to us his testimony regarding political, environmental and social issues.
Rehema Chachage (Dar es Salaam, 1987) is a Mixed Media artist working mostly in video and installations as well as performance. Themes explored in her work are very much determined by her situatedness, but the most prominent ones are "rootedness", "gender" and "identity". Of late, her interest in these themes has steered her in the direction of exploring rituals as a valuable tool for reading into social norms and tensions.
Gladys Melina Kalichini is a contemporary artist and researcher from Lusaka, Zambia and is currently an MFA candidate at Rhodes University. Her studio practice and research focus on three main broad topics, namely: Marginalisation, Colonial historic figures/individuals and Memory. Predominantly, she mines into narratives of colonial females within the context of these broader topics. Kalichini's work manifests largely in two-dimensional mediums including painting, digital work and installations.
Akissi Beukman is a twenty-year-old, Grahamstown-based artist who is currently in her third year of studying a Bachelor of Fine Arts at the University Currently Known As Rhodes. She specialises in poetry, performance art, digital art and painting. She is heavily influenced by notions of performativity in terms of gender and race and the politics that surround and influence her body. Her work has been exhibited during the National Arts Festival (2015 – 2017).

Born in the small Eastern Cape town of Uitenhage (1996), Evaan Ferreira is currently in his third year of study at the University Currently Known As Rhodes, where he is studying towards a Bachelor of Fine Arts, focusing on digital arts and drawing. Ferreira's work currently focuses heavily on representation of black and queer bodies in new age media and the influence of mass consumption in relation to power and body politics in the current South African context. He explores his interests through digital collage, video works and mixed media works which have grown into installations and performance works.

Born in Zimbabwe and living in Germany. Nancy Mteki is a visual artist whose work draws on women and their daily experiences in society. She was introduced to photography in 2008 at a South African workshop Iliso Labantu (The Eye of the People) founded by Alistair Berg and Sue Johnson; her work has been exhibited widely in Harare, Johannesburg, Bulawayo, Pretoria, Cape Town and London.
Sikhumbuzo Makandula has exhibited nationally in South Africa and internationally in Austria, New York, Switzerland and Zimbabwe. Makandula has had two solo exhibitions, Ubuzwe at Room Gallery, Johannesburg in 2017 and In Search of a Nation at Njelele Art Station, Harare, Zimbabwe in 2016. Group exhibitions and fairs he participated in during 2017 include 1:54 Contemporary Art Fair, Looking After Freedom at Michaelis Galleries, My Collection, MoCADA, New York, and Bright Young Things, Art Africa Fair and A Flagrant Arcade: Contemporary Art, Cape Town.
Aryan Kaganof is a project of African Noise Foundation.
Born in Cape Town in 1989, Francois Knoetze is a performance artist, sculptor and filmmaker. He holds a BA Fine Arts degree from Rhodes University and an MFA from Michaelis School of Fine Art, UCT. Knoetze retraces the life cycles of discarded objects and explores junctures between material and social histories.
Last Modified: Thu, 26 Oct 2017 15:34:18 SAST