MAKING WAY: CONTEMPORARY ART FROM SOUTH AFRICA AND CHINA
Curated by Ruth Simbao, Standard Bank Gallery, Johannesburg (2013)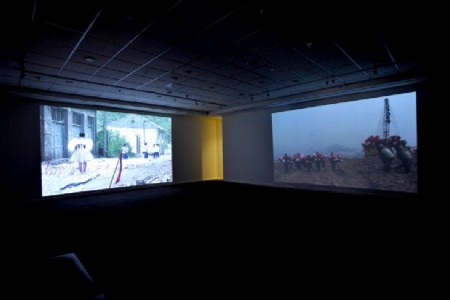 The Making Way group exhibition curated by Ruth Simbao explored the ways in which contemporary artists based in South Africa and China engage with paths of recent movement, economic and cultural shifts, the rise of new regimes, and fluctuating social and urban spaces. One of the most critical geopolitical shifts in the 21st century has been the rise of China as an economic power, and its venture into other parts of the Global South – particularly the African continent. Too often, however, the media sensationalises China-Africa relations, simplistically framing China as either Africa's new curse or as an economic saviour to the continent. While revived China-Africa relations have piqued the interest of economists, little meaningful cultural understanding exists, and new forms of Sinophobia are hot on the heels of Afrophobia. This exhibition addressed the various ways in which humans 'make way' globally and locally, through broad patterns of movement as well as small, grounded moments of performance.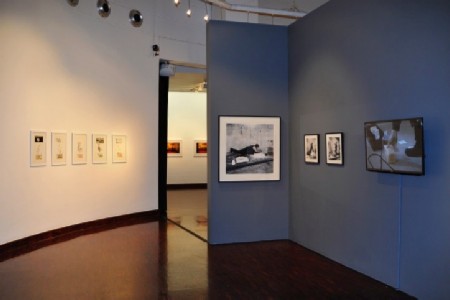 In this exhibition Lebogang Rasethaba, Gerald Machona, Michael MacGarry and James Webb deal directly with China-Africa relations. While Rasethaba and MacGarry consider personal relationships between Chinese and African people that arise from recent opportunities in trade and education, Webb and Machona play with stereotypical perceptions and constructions of 'foreignness' in China and South Africa.
Rapid change in physical and social landscapes often accompanies geopolitical shift. Wu Junyong 's animation videos mine the absurdity of power, greed, monotony and futility in contexts that lack change, and Chen Qiulin grapples with dramatic economic and urban reconstruction in relation to the development of the Three Gorges Dam. Kudzanai Chiurai and Shanghai photographer, Maleonn, register change by questioning the strategies of leaders, and wittily consider the youths' often awkward relationship to the past as well as their fresh approach to the present.
Both the Chinese and isiXhosa translations of 'making way'—?? (kailu) and ukuvul'indlela respectively—suggest the notion of opening up the road. In a number of works, artists such as Hua Jiming, Thenjiwe Nkosi, Gerald Machona, Dan Halter, Dotun Makun and Vulindlela Nyoni challenge the ways in which societies attempt to close down opportunities with Sinophobic and Afrophobic attitudes as new paths and global patterns of movement open up.
Artists: ATHI-PATRA RUGA, BRENT MEISTRE, CHEN QIULIN, DAN HALTER, DOTUN MAKUN, DOUNG ANWAR JAHANGEER, GERALD MACHONA, HUA JIMING, JAMES WEBB, KUDZANAI CHIURAI, LEBOGANG RASETHABA, MALEONN, MICHAEL MACGARRY, QIN GA, RANDOLPH HARTZENBERG, THENJIWE NKOSI, VULINDLELA NYONI, WU JUNYONG.
Photos: (top) installation view of Chen Qiulin, Colour Line, 2006 (left) and Garden, 2007 (right), and (bottom) installation view of Vulindlela Nyoni (left) and Randolph Hartzenberg (right), courtesy of Standard Bank Gallery.
Generous support for the exhibition was received from the Standard Bank Gallery, the National Arts Festival, the National Arts Council, Rhodes University, the National Research Foundation, Sumali Investments and the Eastern Cape Provincial Arts and Culture Council.
For the Making Way Performance booklet click here and for the Making Way Exhibition Catalogue click here.
Last Modified: Tue, 15 Aug 2017 16:47:55 SAST