SLIP
Slip: Mbali Khoza and Igshaan Adams (2014)
Alumni Gallery, Albany History Museum, Grahamstown, curated by Ruth Simbao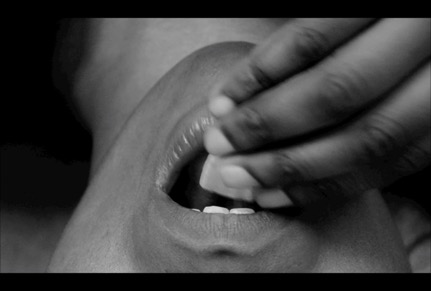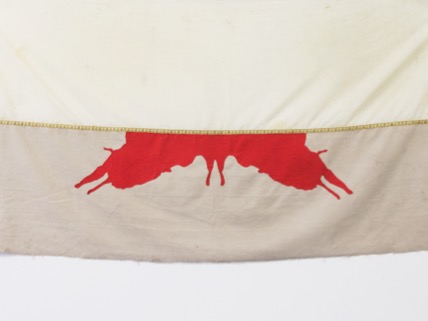 The SLIP exhibition opened at the Alumni Gallery in the Albany History Museum, Grahamstown in October 2014. The exhibition grew out of the Residencies for Artists and Writers (RAW) project that was organised by Ruth Simbao.
The exhibition deals with various forms of slippages that occur in relation to ways that we 'know' through our senses. For this exhibition Khoza produced two series of monotype blind drawings titled 'The tongue and the other other tongues' and 'Creating in a tongue'. Underlying her work is the impossibility of translation – the excess, the unspeakable and the slip of the tongue. The fabric works that Adams exhibited in SLIP draw from forced correlations between what we see and who we supposedly are in the process of interpreting the Rorschach inkblot tests.
Photos: (Top) Mbali Khoza, '5min85sec (Fixing English)' video installation (detail), 2014, courtesy of the artist. (Bottom) Igshaan Adams, 'Plate 6', found seat cover, fabric, and invisible thread, courtesy of Blank Projects. (Please do not use without copyright permission).
Generous funding was received for this exhibition from the National Lottery Distribution Trust Fund (NLDTF), South Africa.
Last Modified: Tue, 15 Aug 2017 16:48:14 SAST