THREE DAYS
By Randolph Hartzenberg
A MAKING WAY performance (2011) , curated by Ruth Simbao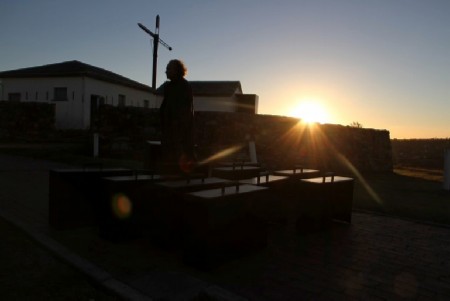 Three Days was performed at Fort Selwyn in Grahamstown. In many of Hartzenberg's works the suitcase, a symbol of transience, alludes to the impossibility of arrival and the denial of a settled destination. Suitcases, or suitcase-like structures appear in works such as Unplugged (1993) from the Domestic Baggage series, the Salt Theatre installation (1996), Salt and Time (1997), Road Zero (1997) and the Three Days installation (2012 and 2013).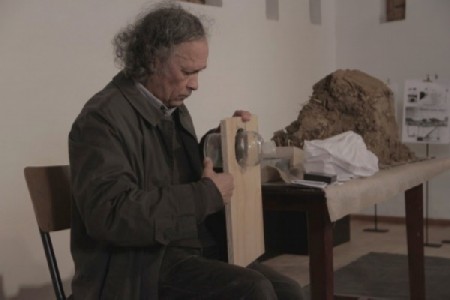 ‌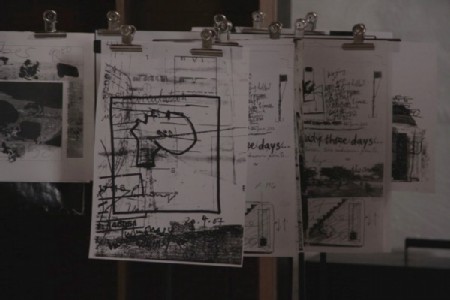 ‌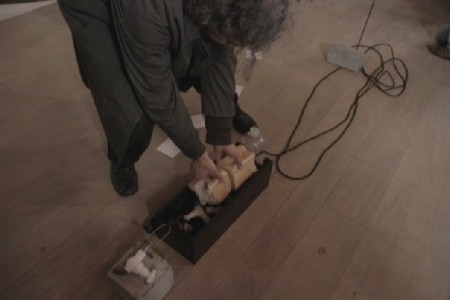 ‌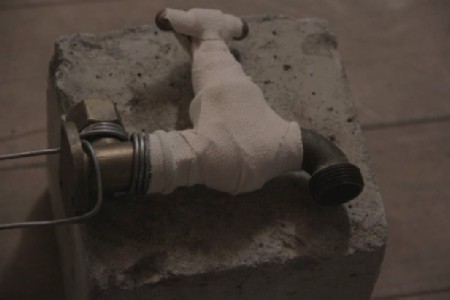 ‌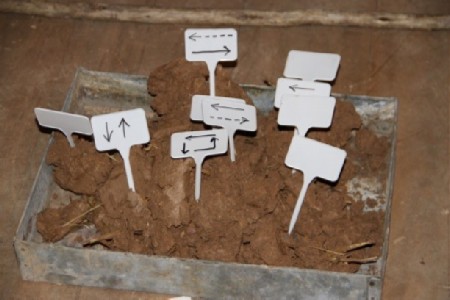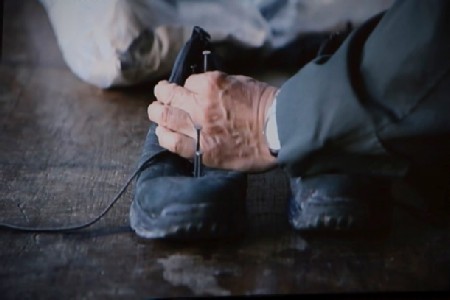 ‌
In the video,
Out of Place
, which forms part of the installation, the impossibility of arrival is juxtaposed with what sometimes becomes a struggle to move, as a pair of shoes is carefully hammered to a table. While movement in a global context is often valourised by those with means, the literal and metaphoric act of putting one foot in front of the other is not always as easy as one might expect.
Three Days references Iphigenia, foregrounding themes of sacrifice, betrayal and the vulnerable individual. Fragments of text attached to music stands are taken from a poem by the 20th Century Greek Poet Yannis Ritsos, who titled a collection of his long monologue poems, 'The New Oresteia'.
Extract of text 'The New Oresteia' in the installation:
Already three days have passed since we've come home. The trip's over. The adventure came to and end. So? – was that it? Was that all there was to it? You're not smiling at all. Me neither. Certainly it's not what we lack, what we've not found – besides, we didn't to find anything. Maybe we're the ones who're missing. We've returned, we say, and we barely recognize where we've come from and what we've come to. We're moving between two unknown points. Don't hang your head. We'll both leave. One won't hold the other back. You're already sitting on the edge of your chair. Our friend is gone, too. No sooner did we meet than we split up again. Oh, surely, someday or other what's fated happens. We've been released into a new slavery – it doesn't abandon us, it sits and waits, it waits by the gate outside, by the dry grass, the nettles, the thistles and the fallen keys.
Photos and text: Ruth Simbao (please do not use without copyright permission)
Funding was received from the National Arts Festival and the Visual and Performing Arts of Africa focus area
For the Making Way Exhibition Catalogue click here
Last Modified: Wed, 16 Aug 2017 08:22:56 SAST