VISUAL VOICES
Lusaka, Zambia, 2016, Curated by William B. Miko assisted by Andrew Mulenga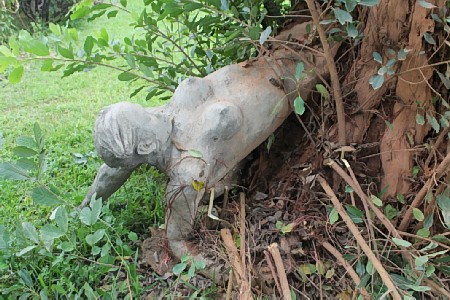 Charles Chambata, People coming out of nature to build a new world, 2003 (concrete and tree)
While the focal point of Visual Voices was Henry Tayali´s (1943 b. – 1987 d.) colourful mural "African Market", that was frescoed in 1977 in the entrance hall right when the Embassy was built, the piece was surrounded by works of artists who either worked with Tayali, displayed on the German Embassy in Lusaka's online gallery for the "Artist of the Month" series, or were selected by the curator.
Visual Voices encapsulates the work of over 20 artists whose collective oeuvre resonates in a single visual harmony: one that declares a message and states that Zambian artists – despite their many deficits and challenges – to a large extent do not always genuflect towards the preferences of a small, mainly Euro-American collector base who determine what "African" or indeed "Zambian" art must look like. For instance, the exhibition did not include typical, idyllic village scenes that depict women with pots on their heads, mundane wildlife illustrations or figurative African market scenes.
Similarly, Tayali's mural was executed on his own terms: by the time he produced the work he had already developed a "crowd-scene" motif that was a metaphor for a society with shared social fabric whose sense of community manifests in taverns, market places and other communal social spaces.
Correspondingly, chosen from across genders and career levels, the other artists in the show appeared to probe and challenge the problematic notion of representation as well as archetypes of discourse that pigeonhole Zambian artists to the point of parochial simplicity.
This exhibition took place at the former premises of the German Embassy in Lusaka, Zambia from the March 15 to 24, 2016, and was funded by the German Embassy in Zambia.
Text and photos by Andrew Mulenga.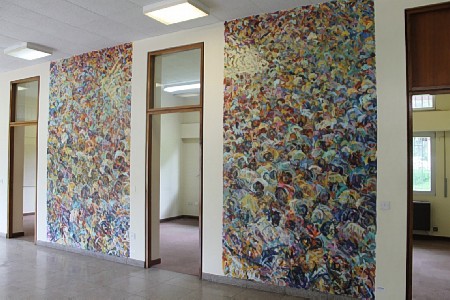 Henry Tayali, African Market, 1977 fresco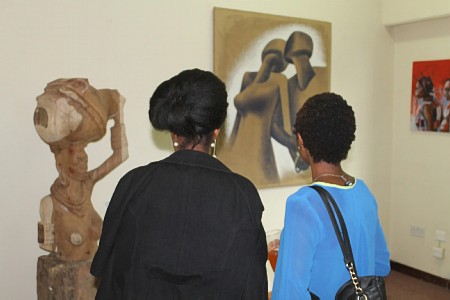 Work by Charles Chambata, Lawrence Yombwe and Lombe Nsama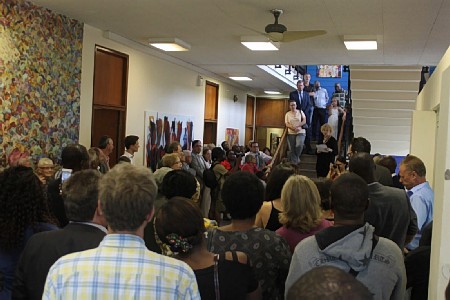 Opening remarks by the German Embassy Head of Cultural Division, Isold Aust
Last Modified: Tue, 05 Sep 2017 09:54:29 SAST