WHAT DIFFERENCE DOES IT MAKE WHO IS SPEAKING?
By Mbali Khoza
Performed at the Eastern Star Press Museum, National Arts Festival, 2014
This was one of four BLIND SPOT performances curated by Ruth Simbao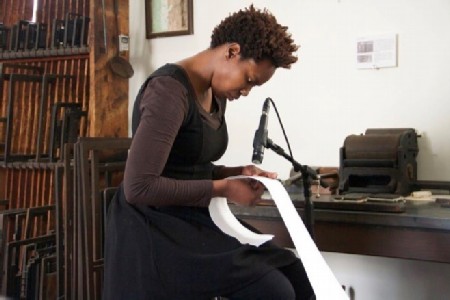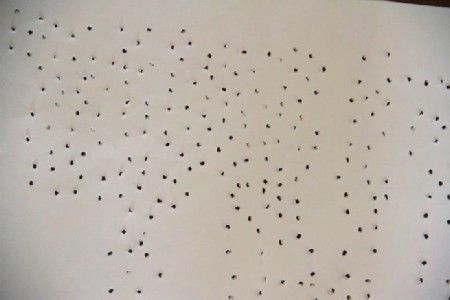 "In the performance, What difference does it make who is speaking? Khoza methodically pierced a long scroll of blank paper with a threadless needle, scarring the surface with seemingly meaningless perforated holes. The sound of the metal penetrating the thick paper was amplified, and sound and touch overtook sight as the stitched transcription of a West African language that relied on isiZulu phonetics as a guide, raised the surface of the paper like braille. This performance was inspired by the work of Zimbabwean writer Dambudzo Marechera who, in his novella House of Hunger, compares the act of writing to a violent stitching of a wound. He writes, 'As I read it every single word erased itself into my mind. Afterwards they came to take out the stitches from the wound of it. The stitches were published. The reviewers made obscene noises' (Marechera 1978).
Performing in the Eastern Star Press Museum in Grahamstown, Khoza was surrounded by nineteenth century gallery proof presses, wooden printers trays and printing blocks that used to be meticulously arranged by hand to compose the content of the English newspaper the Eastern Star that first appeared in Grahamstown in 1871. While the laborious act of placing individual letters side by side to create one word at a time is paralleled in Khoza's painstaking stitching of indistinguishable text, the brutality of the act of puncturing the paper alludes to the violence of silencing language, particularly one's mother tongue. While English is only the first language for about 10% of the South African population, it remains the dominant language in the media and in government nationwide. In the context of Grahamstown, the English language that was brought with the 1820 British Settlers largely erases the local language of isiXhosa in the formal business and tertiary education sectors" (Simbao, 'Blind Spots and Ways of Not Seeing', Image and Text, 2015).
Photos: Ruth Simbao (please do not use without copyright permission)
Funding was received from the National Arts Festival
To Read more on What Difference Does it make go to Blind Spot Performance booklet.
Last Modified: Tue, 15 Aug 2017 16:48:07 SAST