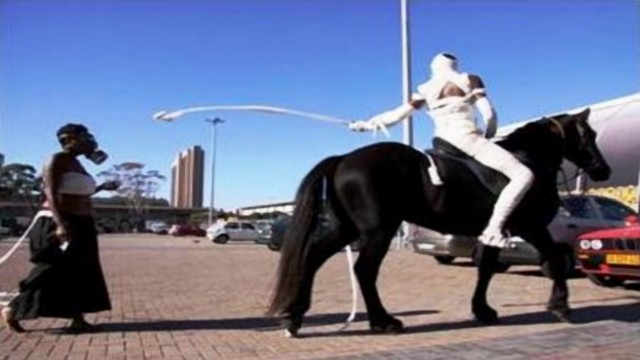 Maurice Mbikayi, a visual and performing artist, was invited by the Rhodes Mellon Focus Area 'Visual and Performing Arts of Africa' to perform a work entitled 'Intersection', which explores constructions of 'foreignness' in relation to place and identity, at the Arts Lounge during the National Arts Festival.
This work is part of the 'Voices' series that began in Cape Town in 2010.
Discussing the Voices performances Mbikayi says, "I portray my personal experience in a foreign country. In this work I explore elements of an existing relationship between a new country and me…I am inspired in this performance by the experience of living in a cosmopolitan society, facing a multifaceted reality (of cultures, languages and races).
"My experience as a foreign black male living in constant uncertainty sometimes can make one defensive. Identity and difference can be a positive thing (of richness and diversity), however in various cases carry out the perception of divergence and distance".
Mbikayi is trained in the Democratic Republic of Congo and currently lives and works in Cape Town. Born in Kinshasa, he attended the Institut des Beaux Arts as well as the Academies des Beaux Arts. He moved to South Africa in 2004.
As a visual artist Mbikayi uses photography, installation and performance as a way of engaging the public and interrogating social boundaries around current socio-political issues.
Recently one of the Spier Contemporary 2010 biennale selected artists he was also nominated to participate in the 2010/2011 Hollard Creative Exchange Programme.
Since arriving in South Africa he has exhibited at the Alliance Francaise, the Association for Visual Art (AVA Gallery), the Baxter Theatre, the South African Museum Iziko Slave Lodge, the Development Bank of South Africa and the Center for African Studies (UCT). He also participated in the Harare International Festival of the Arts in Zimbabwe.
Together with Jonathan Shapiro and Zwake Mbuli, Mbikayi took part in a Canadian film documentary/art exchange programme called Art of the DESSENT. In addition he collaborated in a video performance (Talking Heads) with Magdalena Kunz and Daniel Glaser.
Using art for therapeutic purposes within the broader community, Mbikayi has co-facilitated group processes and workshops for the elderly and youth as part of the Trauma and Healing Project at Catholic Welfare and Development.
To view his performance, meet on Saturday 9 July, at 17a Somerset Street in Grahamstown, (near the corner of Somerset and New Street) at 14h15. Mbikayi will move through town on horseback and viewers are invited to walk with the performance. A discussion with Mbikayi and other artists will take place at the Arts Lounge at 15h00.
For more information on the Arts Lounge and the Fine Art Mellon Focus Area see www.research-africa-arts.com or contact Prof Ruth Simbao (r.simbao@ru.ac.za).
Image: 'Voices' performance at the Spier Contemporary, Cape Town, 2010.
Source: Rhodes University
Please help us to raise funds so that we can give all our students a chance to access online teaching and learning. Covid-19 has disrupted our students' education. Don't let the digital divide put their future at risk. Visit www.ru.ac.za/rucoronavirusgateway to donate