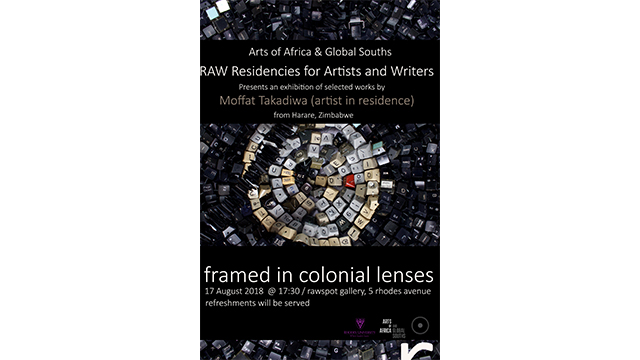 You are warmly invited to the exhibition "framed in colonial lenses" by the Harare-based artist Moffat Takadiwa. Takadiwa was a RAW Fellow in the Arts of Africa and Global Souths research programme in the Fine Art Department from July to August 2018.
Exhibition details:
Friday 17 August 2018
17:00
Raw Spot Gallery (5 Rhodes Ave, corner of Lucas Ave)
Please rsvp to Charmaine Mostert (c.mostert@ru.ac.za) by Wednesday the 15th.
The exhibition "framed in colonial lenses" develops Takadiwa's previous works that are inspired by recent youth movements in Africa, particularly the "Rhodes Must Fall" movement in South Africa. His experience of coming to Rhodes University from former Rhodesia, heightened his awareness of the name "Rhodes" and the shadows of colonial lenses that persistently frame the histories and cultures of Africans. Drawing from the writing of Zimbabwean Historian Mhoze Chikowero*, Takadiwa's exhibition calls for the need to rethink disciplines and definitions inherited from colonial registers, and emphasizes the need for Africans to create their own frameworks.
The exhibition includes a new sculptural work that he created with the assistance of a group of students from the Fine Art Department at Rhodes University. These sculptures are made from predominantly black keys from dismantled computer keyboards that were sourced from Johannesburg. The fragments of keyboards question the role of language in the perpetuation of cultural imperialism. Dismantling colonial rule requires not simply the transfer of the instruments of government, but also overcoming colonial cultural legacies, including language.
* Chikowero in Simbao, Chikukwa, Ogonga, Bickle, Pereira, Altass, Chikowero and Fall (2018), "Zimbabwe Mobilizes: ICAC's Shift from Coup de Grâce to Cultural Coup". African Arts 51(2)
Moffat Takadiwa is represented by Tyburn Gallery in London. Please see www.tyburngallery.com/artist/moffat-takadiwa/ for more information on his work.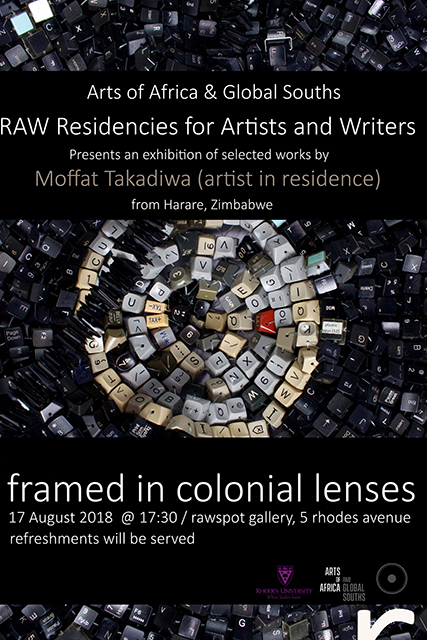 Source: Rhodes University
Please help us to raise funds so that we can give all our students a chance to access online teaching and learning. Covid-19 has disrupted our students' education. Don't let the digital divide put their future at risk. Visit www.ru.ac.za/rucoronavirusgateway to donate