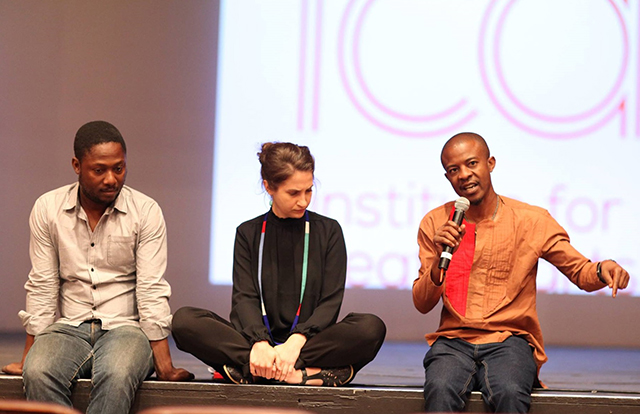 ARTS OF AFRICA AND GLOBAL SOUTHS research programme affiliate Andrew Mulenga, is a PhD candidate in the Fine Art Department at Rhodes University, South Africa. He was among emerging and internationally acclaimed art historians, curators, artists, as well as prominent academics who straddle the fields of art and academia, research and criticism that were invited to the launch of the Live Art Network Africa (LANA) at the Institute for Creative Arts (ICA), University of Cape Town (UCT).
Mulenga's presentation entitled "For The Record: Documenting performance art in Zambia, where do we do we start?" grappled with documentation – or the lack thereof - of performance art in the Zambian genre. It furthermore proposes that performance artists should develop conversations around documenting their work for marketing purposes on the international art scene if not for archival purposes so that scholars can engage with the work critically.
Held from 17 to 20 February at UCT's Hiddingh Campus and convened by Jay Pather, Associate Professor at the University of Cape Town and Director of the ICA, the event comprised performances, networking sessions and a symposium. Catering for packed audiences, the symposium featured addresses, panel discussions and papers around some of the salient issues of live art.
In the closed-door sessions delegates came together in a more informal capacity to form a network that will take forward ideas around platforms for 'staging' live art, the theorizing and critique of live art (publications and conferences), education (workshops, laboratories and curriculum development), and the dissemination of live art (through, exhibitions, documentation, recordings).
The closed-door sessions took place in four parts, and the first session looked at the intentions for LANA, why the Network is needed, and how the goals of LANA will be taken forward. In the second session, discussion centered around Live Art (or multidisciplinary) festivals on the continent, where these festivals are taking place and the institutes/organizations that run them. In the third one, conferences on the continent that focus on live art, African journalists, writers and academics who are reviewing and reflecting on live art in critical, generative ways were highlighted, in conjunction with books or collections of essays about African live art. The last session focused on art curricula that include the study of live art on the continent, and the success of such courses/syllabi in terms of take up from students and the impact on the quality of work being produced. The last session was also dedicated to the formation of a LANA Secretariat to coordinate the Network going forward.
The full list of delegates in attendance, from other countries, were: Panaibra Canda (Mozambique), Christian Etongo (Cameroon), Jelili Atiku (Nigeria), N'Goné Fall (Senegal), Laila Soliman (Egypt), Wura-Natasha Ogunji (Nigeria), Mwenya Kabwe (Zambia/South Africa), Bernard Akoi-Jackson (Ghana), Massa Lemu (Malawi), Andrew Hennlich (USA).The list of delegates in attendance from South Africa were: Sarah Nuttall, Dee Mohoto, Gabrielle Goliath, Nondumiso Msimanga, Bettina Malcomess, Katlego Disemelo, Alan Parker, Same Mdluli, Catherine Boulle with Nelisiwe Xaba and Donna Kukama. Nomusa Makhubu, and Khwezi Gule could not make it due to prior engagements, their presentations, however, were broadcasted and discussed. Live performances included works by Jelili Atiku, Bernard Akoi-Jackson, Panaibra Canda, Christian Etongo, Khanyisile Mbongwa, Dean Hutton, Chuma Sopotela and Lesiba Mabitsela.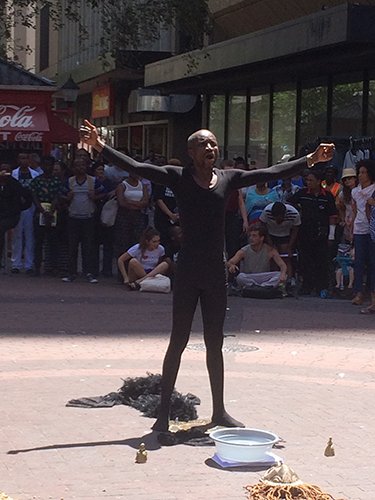 Jelili Atiku during his performance Jangbala Jubu, or How to Explain History to American President (Photo: Andrew Mulenga)
Above photo: (L-R) Panaibra Canda (Mozambique), Catherine Boulle (South Africa) and Andrew Mulenga (Zambia) at the Live Art Network Africa (LANA) symposium, Institute for Creative Arts (ICA), University of Cape Town. (Image courtesy: ICA)