Bittersoet is framed around Bezuidenhouts fragmented childhood memories of a significant journey undertaken by herself, her brother and her mother, where they walked from East London to the small town of Ugie. In her efforts to uncover the well kept family secret as to why they walked to Ugie, Bezuidenhout has unearthed other phrases and narratives that characterise the relationship between herself and her mother.
Each memory is connected to an object in the exhibition and has a story translated from (Afrikaans into English) embedded in its title. Each object is molded using a found object such as can tabs, bread tabs or used soaps that have been collected while walking in Grahamstown, and sculpted using only recycled clay. The result is a repetition of carefully rendered items with subtle differences in their colour and appearance. This includes rows of clay bread soaked in clay and cast in the kiln so that the bread burns out and miniature telephone keys meticulously attached one by one to the gallery wall. Her treatment of the objects convert the seemingly mundane, the discarded and the everyday into something that invites the viewer to participant in 'imagining' why Bezuidenhout and her mother and brother undertook that walk.
The exhibition opens at 5:30 pm on Friday 01 February 2019, at the Art School Gallery, (Somerset Street), and all are welcome.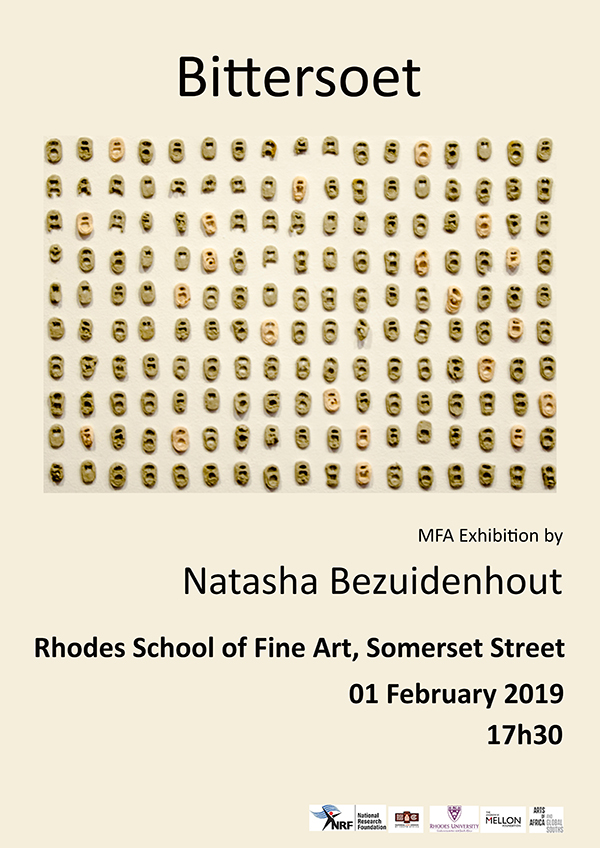 Source: Rhodes University
Please help us to raise funds so that we can give all our students a chance to access online teaching and learning. Covid-19 has disrupted our students' education. Don't let the digital divide put their future at risk. Visit www.ru.ac.za/rucoronavirusgateway to donate