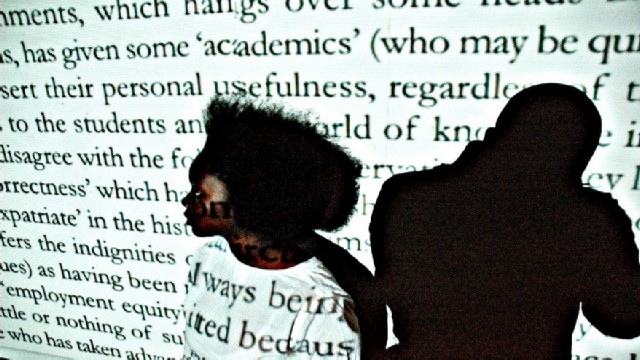 The Arts of Africa and Global Souths research team in the Fine Art Department, welcomes Rehema Chachage as a RAW Artist in Residence. Chachage is a mixed media artist based in Dar es Salaam, who works predominantly in video, sculptural installation and performance. Her early work draws from her time spent as a student at the University of Cape Town and she describes experiencing this situation as a "'cultural foreigner' and a non-South African, black female student in a predominantly middle class institution". At the time, she says, her work was produced from "the point of view of a stranger, the outsider, the other, the alien and often the voiceless". Recently she has been exploring rituals as valuable tools for interpreting social norms and tensions, including gender relations and subversion.
Chachage's solo exhibitions include 'Mlango wa Navushiku' (Circle Art Gallery, Nairobi), 'Chipuza' and 'Mwangwi' (Goethe Institute, Tanzania), and 'Mshanga' (Nafasi Art Space, Tanzania). She also exhibited in the 2012 Dak'art Biennale in Senegal, the 2013 International Contemporary Festival Videobrasil, the 2016 Cape Town Art Fair 'Consuming Us' exhibition curated by Ruth Simbao and Azu Nwagbogu, and the 2016 Johannesburg Art Fair. Later this year she will hold a solo exhibition in Zimbabwe.
Rehema will be based at Rhodes University from the beginning of June to the end of August 2017. RAW (Residencies for Artists and Writers) provides her with the opportunity to experiment with new ideas and research processes, and to engage with the Arts of Africa and Global Souths research team and other Fine Art students.
In October, artist Thania Petersen will join Rhodes as another RAW Artist in Residence, and Dr. Rose Kirumira from Makerere University in Uganda will be a Writer in Residence from September to December 2017.
Photo: Rehema Chachage, Mizizi/Nasaba (Kinship/Roots) 2010. Courtesy of the Artist
Source: Rhodes University
Please help us to raise funds so that we can give all our students a chance to access online teaching and learning. Covid-19 has disrupted our students' education. Don't let the digital divide put their future at risk. Visit www.ru.ac.za/rucoronavirusgateway to donate