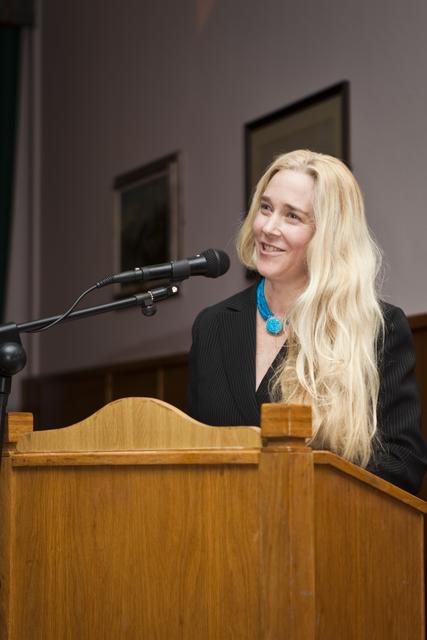 Rhodes University Fine Art lecturer's research paper has been named as one of the fifty influential articles published in the humanities and sciences journals under the MIT Press label.
Professor Ruth Simbao's research article, entitled The Thirtieth Anniversary of the Soweto Uprising: Reading the shadow in Sam Nzima's Iconic Photograph of Hector Pieterson, has been selected as part of MIT Press' fifty most influential articles alongside articles by such names as Noam Chomsky. "Seeing my name with Noam Chomsky is quite an honour," she said.
Prof Simbao's article is part of her long standing interest in photography and South African society which started with her taking a theory course on photography and anxiety as part of her doctoral study at Harvard University.
When she started lecturing at Rhodes University in 2006, she realised that it was the 30th anniversary of the 1976 Soweto uprising, and that the planned activities in commemoration of this event would present a unique research opportunity. "I wanted to do research on the photograph not in isolation but in the context of the Hector Peterson Museum and the anniversary march", she said.
She then travelled to Johannesburg to attend the celebrations. In Johannesburg, she stayed at a Bed and Breakfast (B&B) in Soweto close to the route taken by 1976 protesters. "Being there and staying just around the corner from where it happened made it more meaningful to me," she said. "Speaking to people who had children who were part of the uprising was very meaningful."
She participated in the 30th anniversary march that followed the same route that the youth of 1976 took. "At the end of the march, there was a group of young people who acted out the photograph. I found that to be incredible to see this photograph that I have been studying being acted out and literally performed by today's youth," she said.
She explained that the re-enactments of this iconic photograph contributed to the spaces for counter-memories and new meanings to be created. Such performance allows for news stories to be told through that photograph. She explores what the photograph "means for today's society", its relevance to the context that we are in now. Some artists have reinterpreted this photograph in the context of HIV/AIDS.
The article is in line with Prof Simbao's research goals. "My objective is doing research that does not take an obvious path, but that considers ideas and nuances that are often overlooked due to structures of power."
In future, she plans to do more work in this area. "I would like to write a further article in the future about other photographs that have been re-enacted and performed." This relationship between photography and performance will be further explored during an exhibition that she is curating for the National Arts Festival this year titled Making Way. In a unique collaboration between artists Athi-Patra Ruga and Mikhael Subotzky, viewers will watch the work titled 'Performance Obscura' through the camera obscura at the Observatory Museum.
By Azwi Mufamadi
Picture by Sophie Smith
Source: Rhodes University
Please help us to raise funds so that we can give all our students a chance to access online teaching and learning. Covid-19 has disrupted our students' education. Don't let the digital divide put their future at risk. Visit www.ru.ac.za/rucoronavirusgateway to donate