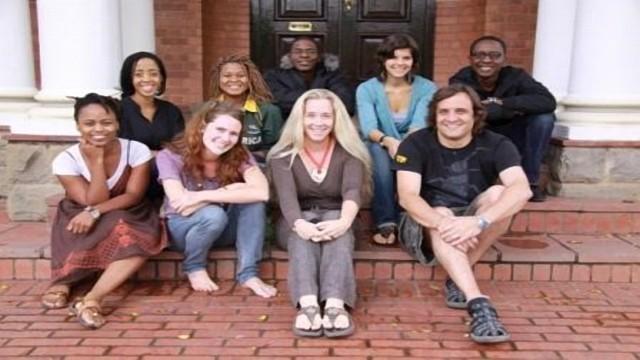 A research team, consisting of ten gifted artists and academics, hosted a cocktail function last week to officially open their new workspace and launch their research focus area. This is a newly formed research endeavor by the Humanities Mellon Focus Area in Visual & Performing Arts of Africa.
Themed "The Audacity of Place - Geopolitics and the Arts of Africa" the research aims to subvert conventional Eurocentric views of 'African Art' and interrogate the experiential reality of the visual and performing arts of Africa.
The complex relationship between place and identity, which is all too often essentialised in art theory, will also be examined and the team aims to develop a more nuanced vocabulary to speak about such issues.
The function last week saw each member outlining their particular area of focus. Attendees were graced with a tour of the Randall Annex, and were fortunate enough to engage with the work of some of the artists.
Prof Ruth Simbao is the mastermind behind this project. It is her passion and vision that has driven this endeavor from concept to reality. This forward-thinking venture truly breaks boundaries, and plans for conversations with the departments of Drama and Music are already in the pipeline. Simbao is an Associate Professor of Art History & Visual Culture at Rhodes University and is currently writing a book on the audacity of place.
Annemi Conradie will probe the archaeology of stereotypes by researching cultural villages and their role in contemporary times. Conradie will explore the commodification of culture and the image of "Africa" and "Africans" which is still being sold to the tourist market in this post-modern age.
Lerato Bereng, who did her undergraduate degree at Rhodes and is currently pursuing a MFA while working as a curator inJohannesburg, will explore concepts of simplicity and access in the arts. There is an irrational fear attached to simplicity and it is therefore largely absent from the arts of South Africa.
Eben Lochner, a Masters of Fine Arts student, is examining community art centres and their pivotal role in the fostering of locally embedded art cultures. Lochner's quest to unpack the role of art in development will see him explore other parts of the African continent as he continues with a PhD.
Zama Nsele is exploring the subtleties and complexities of city carnivals, and the Cape Town Carnival in particular. These celebrations are interesting and highly pertinent to the research theme as they subversively re-map urban spaces. They also, intriguingly, cast light on spaces relevant to the legacy of slavery. The narrative of slavery has been significantly underplayed and brushed aside in the larger narrative of South African history.
Rachel Baasch, whose striking spherical, multi-layered barbed-wire sculptures were on display at the function, spoke of her stream of interrogation. Through her art, Baasch aims to examine space and boundaries, and the construction (and constructions) thereof. Borders can be emotional, social, psychological or physical.
Renowned Zimbabwean artist Gerald Machona is interested in economic migrations, the lived reality of migrants, and the recreation of identity within new spaces. He explores these concepts through the powerful media of performance art.
The crowd was privy to several videos of his urban performances, where, donning various masks of paper money, Machona performs the everyday duties of typical immigrant vocations, such as cleaning, or trimming hair. In one powerful performance he dances on the roof of a Harare skyrise, still adorned with the grotesque mask of paper currency.
His choice of musical accompaniment to these pieces is also carefully considered and fraught with artistic irony. In one piece we hear the sounds of Bongo Maffin's – Mari ye Phepha which tells the story of a man who journeys to Jo'burg in search of the all-powerful paper currency.
Dotsun Makun, of Nigeria uses the striking medium of large-scale portraiture to capture the images of Nigerians in Grahamstown. He uses painting to consider notions of space, nationality, migration and xenophobia. The background of some of his portraits reference the ubiquitous travel bags produced in China that are referred to in Nigeria as the 'Ghana-must-go' bags.
Nomusa Makhubu, lecturer in the Fine Art Department and PhD candidate, is examining the West African film industry in general, and Nollywoodin particular, which has thus far attracted scant academic attention. Nollywood films, however, are highly revealing and expose all sorts of interesting political dynamics, such as the anxiety around loss of culture and tradition, and the audacity of stereotypes.
PhD student and teacher at Greenside School of Design in Johannesburg, Paul Cooper unleashed a fascinating interactive performance which made use of the space within the "stables" environment. Each member of the audience was asked to write a secret on a piece of paper, and then deposit this written utterance underneath one of the rocks of secrecy, on the tranquil stables lawn. This catalyst inspired a positive open-ended discussion on truth, secrecy, voyeurism and assumptions about space and place.
The team is planning to host an Artists' Hub in the Randall Annex during the National Arts Festival, and will travel to Zambia later this year for a symposium and collaborative performance workshop with the Open University of Zambia.
A Mellon Focus Area website will soon be launched (www.research-africa-arts.com).
Source: Rhodes University
Please help us to raise funds so that we can give all our students a chance to access online teaching and learning. Covid-19 has disrupted our students' education. Don't let the digital divide put their future at risk. Visit www.ru.ac.za/rucoronavirusgateway to donate