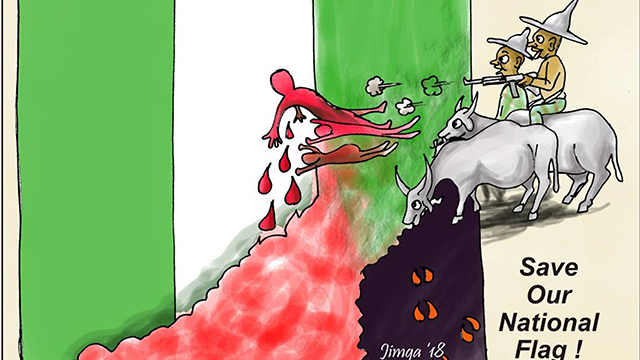 You are warmly invited to the presentation "This is Not Funny: Comicality and the Depiction of Terror in Nigeria" Ganiyu Akinloye Jimoh, also known as JIMGA (cartoon signature)
Lecturer, Department of Creative Arts, University of Lagos, Nigeria
Rhodes University Research Associate and NRF Postdoctoral Fellow with the SARChI programme "Geopolitics and the Arts of Africa", Department of Fine Art
Monday October 21, 2019
1-2 pm
Arts Lounge
5 Rhodes Avenue (corner of Lucas Ave, near the Wellness Centre)
Abstract: One of the problems of visual communication, from the creator's perspective, is the accurate interpretation of the artist's perspective. As cartoons are a popular cultural communication medium that is assumed to evoke amusement, how do cartoonists engage humorous visual elements as tools against violence? This presentation explores cartoons produced for a campaign in Nigeria tagged #DrawingBlood, which aimed to end killings of civilians by Fulani herdsmen. It examines the notion of humour and the representation of violence in cartoons and considers the ways in which interpretation draws from the knowledge of social-political contexts. Jimoh employs "framing" as a theoretical perspective within the incongruity and visual semiotic theories to explore how the #DrawingBlood cartoons frame issues of killings across the country as counter-discourse narratives against terrorism, eliciting the state of "unlaughter".
Keywords: cartoons and violence; cartoon humour; Fulani herdsmen; Nigeria; terrorism
Biography: Dr. Jimoh received his Ph.D. from the University of Lagos, Nigeria, specialising in African Visual Culture and Politics with a focus on African Political cartoons. He is a Rhodes University Research Associate and is currently a NRF Postdoctoral Fellow and a 2019 African Studies Association (ASA) Presidential Fellow. This year Dr. Jimoh received the University of Edinburgh Catalyst Fellowship grant to attend the 8th European Conference on African Studies (ECAS 2019 Africa: Connections and Disruptions), as well as the United Kingdom Art and Humanities Research Council (AHRC) travel grant to attend the Articulation of Nigerian Politics in Visual Arts Seminar and Workshop (Artop) hosted by Bournemouth University. He received the prestigious University of Lagos Best Researcher Award in Arts and Humanities categories in 2011. He also won a Ph.D. grant to conduct research at the African Studies Centre and Special Cartoon Collection Unit at Michigan State University in 2015. Ganiyu is the Secretary of Cartoonists Association of Nigeria (CARTAN).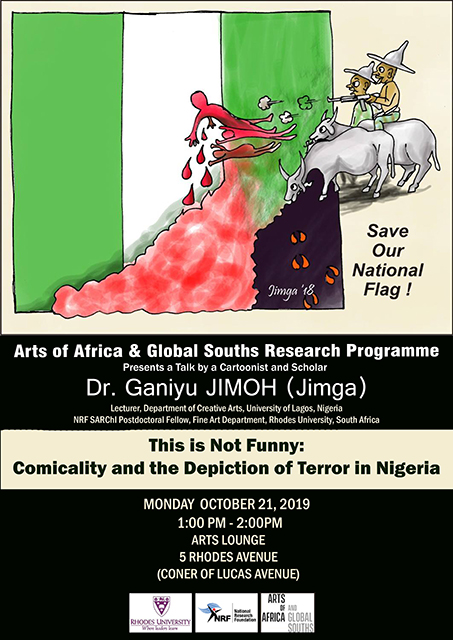 Please help us to raise funds so that we can give all our students a chance to access online teaching and learning. Covid-19 has disrupted our students' education. Don't let the digital divide put their future at risk. Visit www.ru.ac.za/rucoronavirusgateway to donate