Senzo Shabangu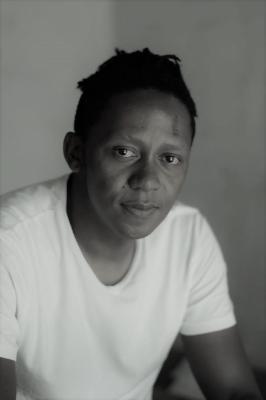 Senzo Shabangu is a multidimensional artist who was born in the village of Driefontein, Mpumalanga and spent a large part of his childhood living at an apostolic mission station. Imagery from this time in his life features regularly in his work. His work explores space, alienation, and identity.
Shabangu often places city landscapes emerging from below and suspended above his characters creating an almost claustrophobic sense of being surrounded by the city. Within this theme, Shabangu also deals with movement in the city and how people are moved. Many of his works look at how people live and the politics surrounding forced removals.
Shabangu studied printmaking at the Artist Proof Studio in Newtown (2006-2008) after being introduced to the medium through the Taxi Art Education Program at the Johannesburg Central Library. Although this was the beginning of Shabangu's formal artistic training, he had been drawing on his own since childhood.
Senzo's recent solo exhibition was called Their Humble Abode, Raw Spot Gallery, Rhodes University, Makhanda, South Africa (2021). The exhibition is a body of work that narrates the story of African children as they migrate from different places in search of better education and how students leave their loved ones to settle for a certain duration at universities or other institutions, sometimes far away from home. The work is based on students' faith, morals, mother tongues and teachings they have received. The exhibition includes paintings of the ark to symbolise how students walk together to the imaginary promised land and the greener pastures lying ahead of them. In this body of work, he travels through the continent in his mind, engaging with, for example, Goree Island in Senegal, Ethiopia, the Cape to Cairo stretch, etc, in honour of the African child who goes out to battle like a soldier.
Last Modified: Mon, 07 Mar 2022 10:27:59 SAST