Moffat Takadiwa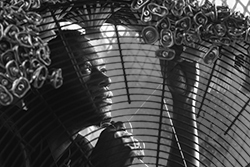 Moffat Takadiwa creates large-scale sculptural pieces from ordinarily discarded materials, including everything from computer waste, aerosol cans and spray bottles, to toothbrushes and toothpaste tubes. He weaves together these small everyday objects to make impressive organic forms evocative of jewel-encrusted excess or a ritualistic kind of minimalism. The artist's choice of materials communicates his concern with issues around consumerism, inequality, post-colonialism and the environment.
Part of the post-independence generation of artists in Zimbabwe, Takadiwa has exhibited extensively across major institutions in Zimbabwe as well as internationally.
Moffat Takadiwa is an Associate Artist with the Arts of Africa and Global Souths research programme, Fine Art Department, Rhodes University, Grahamstown, South Africa. He also completed an artist residency with the research programme under the Residencies for Artists and Writers project in 2017.
Recent solo presentations include Framed in Colonial Lenses, Raw Spot Gallery, Rhodes University, Grahamstown, South Africa (2018); Say Hello to English, Tyburn Gallery, London (2017); Foreign Objects, Tyburn Gallery, London, UK (2015); Foreign Bodies, Whatiftheworld, Cape Town, South Africa (2016); Local Foreign Products at Gallery Special Projects, FNB Joburg Art Fair, Johannesburg, South Africa (2015); Africa Not Reachable! at First Floor Gallery, Harare, Zimbabwe (2012).
Last Modified: Mon, 10 Feb 2020 12:07:50 SAST