Amy von Witt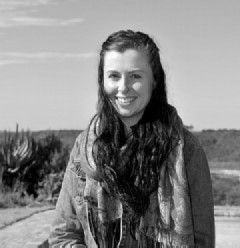 Amy von Witt is a visual artist in her fourth year of a Bachelor of Fine Arts degree at the University Currently Known as Rhodes (UCKAR). She majors in sculpture and installation, and is passionate about street art and public performance art. Her vision as an artist is to create art that resonates with a wide variety of people and spurs social awareness in order to bring about positive change, combating some of the many injustices that riddle our world. In her practice she is currently working around themes of natural healing in relation to women's fertility and reproductive agency.
Her research paper will look at the ways in which public performance art curators, as artist-collaborators, are able to challenge the conventions of visual art. It will argue that public performance art happenings such as Infecting the City, as a shift away from market-driven gallery art, are able to break down boundaries between people and open up necessary dialogues. In discussing the roles of the curators as well as selected performances from the festival, the paper will speak about issues of access to public space, safety and security, as well as the bearing that place and politics can have on women in particular.
In 2016 von Witt spoke on a panel discussion at Nelson Mandela Metropolitan University (NMMU), which addressed the theme of Interdisciplinary Approaches to Community Based Projects by looking at how an interdisciplinary approach to individual or group projects can improve and enhance project delivery and outcomes. She has exhibited her work at the UCKAR student exhibition during the National Arts Festival in 2013, as well as at the UCKAR Holiday Project exhibition the same year. In 2011 she achieved a gold award for sculpture at the Bathurst Show and was awarded the Lynel Wallace Memorial Cup for History of Art.
Von Witt works with the National Arts Festival on a part-time basis, and also assisted at the 2016 FNB Johannesburg Art Fair. She is an active member of her community and dedicates herself to volunteering at local schools and outdoor education centres, and collaborating on murals and outreach initiatives in and around Grahamstown.
Last Modified: Fri, 16 Jun 2017 13:23:18 SAST