Aaron Samuel Mulenga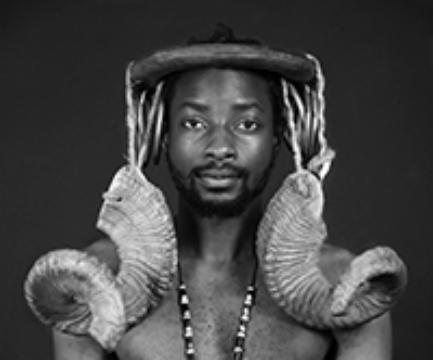 Aaron Samuel Mulenga (MFA student with the NRF/DST SARChI Chair Geopolitics and the Arts of Africa, Arts of Africa and Global Souths research programme, Rhodes University, Grahamstown, South Africa) is a sculptor whose work is expressed in a number of mediums such as bronze, photography, painting and drawing. His research focuses on issues related to identity and spirituality, in particular the process of understanding God (more specifically the Holy Trinity) through an Afrocentric lens. His work also interrogates notions of power and how imagery can be used to shift perceived notions of power. Through his artwork, he interrogates the visual depiction of God in Christianity and seeks new ways of re-imagining how such a depiction can be expanded.
In 2016 Aaron participated in a bronze-sculpting residency with the Falconer Foundry. He has also participated in a number of group exhibitions in South Africa such as Absa L'atalier in Johannesburg (2016), Disclosure, in Cape Town (2017) and Salvage in Port Elizabeth (2017) among others. He has exhibited in Zambia in Exhuming Histories (2018) Livingstone and Independence Exhibition (2018) Lusaka. Aaron obtained his Bachelor of Fine Art with a major in Anthropology from the University of Cape Town where he held a number of student leadership positions such as being a member of the Humanities Student Council and the Chairperson of the Fine Arts Student Council. Aaron is also a Mellon Mays Fellow who has participated in a research colloquium with Williams College, Massachusetts, USA (2015) and a cultural enrichment program with Heritage University, Washington State, USA and Caltech University, Los Angeles, USA (2016). Aaron is a recipient of the Michaelis Directors Award, the Simon Gerson Prize and a member of the Golden Key Society from the University of Cape Town.
Last Modified: Wed, 13 Jan 2021 13:31:11 SAST