Jean-Sylvain Tshilumba Mukendi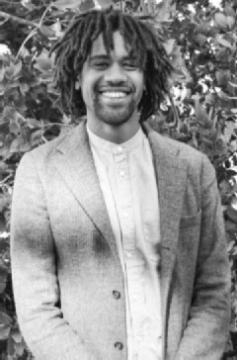 Jean-Sylvain Tshilumba Mukendi is a postgraduate scholar who is part of the Arts of Africa and the Global South research initiative (NRF/Mellon) at Rhodes University, South Africa. His research interests currently focus on independent art spaces in Africa, the relevance of the 'global' in contemporary visual art and African artists' status and position within the art world. They also include contemporary photography, sociocultural discourses embedded within visual representations of the continent, issues of cultural production in African metropolises, diasporic identities, creative responses to Western cultural hegemony, cross-continental cultural exchanges and the social effects of sub-Saharan rapid urban transformation.
Tshilumba completed a Master of Arts degree in Arts and Sciences at Maastricht University (the Netherlands) in 2012. The same year, he took part in the Graduate Liberal Studies Symposium at the University of Southern California Dornsife College of Letters, Arts and Sciences. In 2014, he worked as an assistant within the research department of the Prince Claus Fund (Amsterdam). In 2016 and 2017, he was awarded an Andrew W. Mellon postgraduate bursary as part of the NRF SARChI Chair research initiative.

In 2013 and 2016, he engaged for several months with the Kin ArtStudio, a Kinshasa-based art studio and platform for contemporary visual art created by the artist Vitshois Mwilambwe Bondo.
Tshilumba has been an assistant editor of the Prince Claus Fund 2013 Africa Call Review. In 2016, he contributed to the publication Créer en postcolonie. Voix et dissidences belgo-congolaises 2010–2015 edited by Bozar Books and Africalia Belgium. He has published in Art Africa.
Recent curatorial and artistic projects include Les Mitrailleurs, a photo-project realised with Maxence Dedry in Kinshasa, DRC.
Last Modified: Wed, 13 Jan 2021 13:32:50 SAST