Natasha Bezuidenhout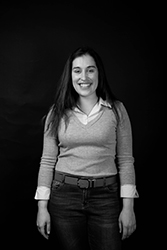 Natasha Bezuidenhout was born in 1991 in East London, South Africa. She holds a B. Tech degree in Fine Art (cum laude) from Walter Sisulu University and a Bachelor of Arts (Honours) (BAH) degree with academic merit from Rhodes University, receiving The Helen Timm Fine Art Award for her work. She is currently a Master of Fine Art student at Rhodes University with the NRF/DST SARChI Chair in Geopolitics and the Arts of Africa.
Her recent MFA exhibition Bittersoet alludes to the self-exploratory nature of her practice, as she interrogates personal memories associated with objects that characterise the relationship between mother and daughter. The supporting document, Narratives and Home: Remembering an almost forgotten walk, considers the key conceptual concerns informing her practice. In the mini-thesis, she addresses the question: 'What is a home?'. Drawing from her own Fine Art Practice, exploring how home can be examined as a product of the imagination, rather than only as a physical place. She considers how 'home' is constructed as the primary objective within an ideological framework defined by history, memory and narrative. Engaging beyond the idea of 'home' as a fixed structure or place, she examines the idea of 'home' as something fluid that is negotiated and defined by the interaction between objects and language.
She is a recipient of the Andrew W. Mellon Foundation postgraduate bursary, which forms part of the Arts of Africa and the Global South focus area that is linked to the SARChI Chair initiative, Rhodes University, Grahamstown (2016–2017); the National Research Foundation (NRF) Honours Scholarship, Walter Sisulu University, East London (2015); and the Eastern Cape Provincial Arts and Culture Council (ECPACC) Bursary awarded each year towards studies of various amounts, East London (2012–2015).
Last Modified: Wed, 13 Jan 2021 13:34:38 SAST