Thando Mama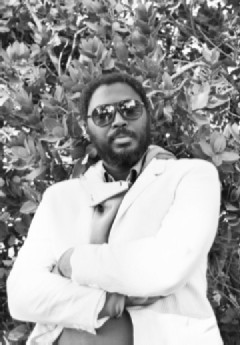 Thando Mama is an MFA candidate at Rhodes University with the SARChI Geopolitics and the Arts of Africa research initiative. His research is on memory, focusing on the ways in which memory is fluid, multilayered, and both collective and individual, as well as the relationship between photography and memory, particularly looking at memorialisation at Ntaba ka Ndoda Monument at Kieskammahoek in the Eastern Cape.
Mama received his Bachelor's Degree in Fine Art at Technikon Natal in 2001. From 2000 to 2006 he was part of an artists' collective known as 3rd Eye Vision, a collective of visual artists, poets and musicians from Durban, with Gabi Ngcobo, Khwezi Gule and Sharlen Khan, and others.
As a practising artist, Mama has had a number of solo exhibitions and has been in group exhibitions both here in South Africa and at International venues – USA, France, Belgium, Austria, UK, Mali, Senegal, and Spain, including biennales, triennials and art fairs. He has received some prestigious arts awards including MTN New Contemporaries Award and the Prix de la Communauté Française de Belgique. His work is in South African public art gallery collections.
He was featured in a local television programme Headwrap on SABC1 in 2007 with veteran artist Lionel Davis. He has taught in printmaking as an assistant and participated in various workshops, artists' residencies and independent projects over the years.
For about five years, he was involved in heritage conservation work with the Robben Island Museum, in various 'heritage' and exhibition developments with the museum as an Exhibition Designer and Curator. In 2016 he was part of the exhibition Being and Becoming: Complexities of the African Identity, a contemporary art exhibition at UNISA Art Gallery, Pretoria curated by Paula Nascimento (Angola) and Raphael Chikukwa (Zimbabwe) in conversation with Bongani Mkhonza (South Africa). He was the convenor of the project 100 Years of The University of Fort Hare Print Exchange Art Exhibition, opened in March 2017 at the Steve Biko Centre in King William's Town.
Video Link to Thando Mama's interview at the 20th Sesc Videobrasil Contemporary Art Festival, Sao Paolo, Brazil, October 2017
Last Modified: Mon, 19 Feb 2018 15:17:20 SAST