Stary Mwaba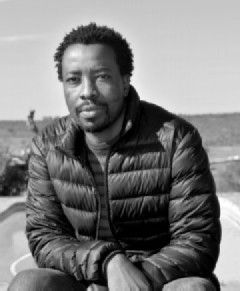 Stary Mwaba completed a Master of Fine Art Degree at Rhodes University. Mwaba is working on the Copperbelt at his BlackMountain Studios (Blackmass) and also in his Lusaka studio. Mwaba went through the Rockston Studios (1985) apprentice programme under Lutanda Mwamba.
Mwaba's work, research and current working process highlight specific subjects using personal little narratives that engage with archival materials as components of his work, and these then functions as the starting point for the works to engage with the current socio-political circumstances in Zambia.
He is a recipient of the Commonwealth Arts and Crafts Award, Zambia National Arts Council Award and the 2014/2015 KfW Stiftung grant at Künstlerhaus Bethanien, Berlin. He has participated in a number of residences, exhibitions and international workshops, which include, Bisi Silva's CCA,FCa Ghana, Robert Wilson's Watermill Residence New York, The Caribbean Contemporary Arts, Trinidad and Tobago, Braziers International workshop, London. His solo exhibitions include the "Solace of a migrant" Gallery Momo, Johannesburg, South Africa,2009."Freedom in Transition", Lusaka National Museum,2008. "Crossing Over" Caribbean Contemporary Arts, Port of Spain Trinidad and Tobago, 2005.
Video link to Stary Mwaba's CNN African Voices interview: From HIV counselor to award winning painter
Last Modified: Mon, 20 Jan 2020 10:29:07 SAST